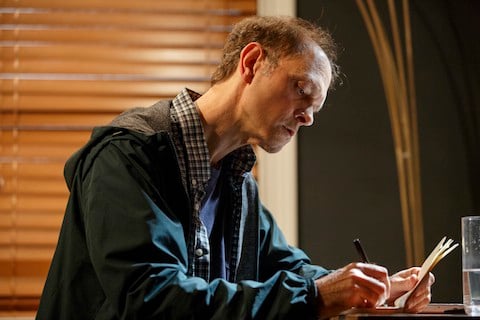 It's not often a story crawls under your skin and says, "I see you" before suddenly forcing you to face your most primal fear. Such is the power of Adam Bock's brutally simple and staggering play A Life, which made its world premiere off-Broadway at Playwrights Horizons on October 24.
David Hyde Pierce stars as Nate, a single fifty-something New Yorker who's just broken up with his latest on-again, off-again boyfriend. We meet him in his cramped yet tidy apartment, nestled onto the stage at the intimate Peter Jay Sharp Theatre, the ceilings low, the blinds down. He's affable and sensitive; as he addresses the audience with the easy, deadpan humor that comes so naturally to Pierce, you'd swear he were one of your friends. Or maybe, some version of yourself.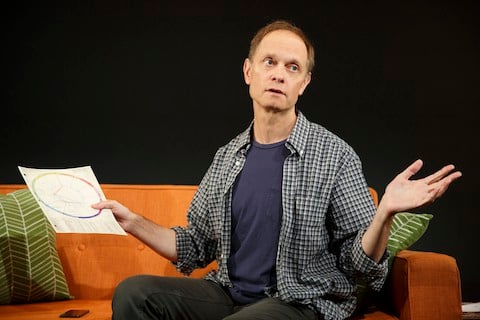 He turns to astrology to glean what order and meaning he can in life, while acknowledging, like most stargazers will, that it could all be bunk. He loves his best friend and thinks his others talk too much about themselves. He promises to call his sister back, adding a note to his pages-long to-do list. He wonders, looking back on decades of his romantic life, whether he might fear intimacy.
The trajectory of every life, of course, is inevitable. I hesitate to set too much detail on the play's sharp turn, because the force of it came as such a shock — as much as the truth of life's fragility ever can. But in just 85 minutes, Bock's play compels us to take stock of our own lives — their rhythms and currents, how much space we take up in the world and in the hearts of loved ones, what's still on our endless to-do lists.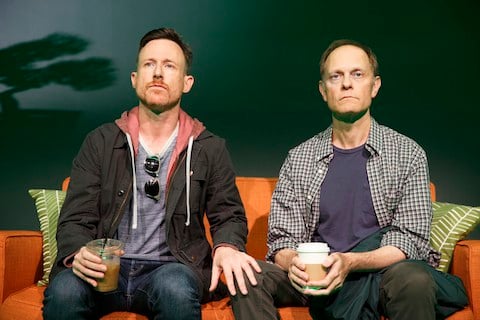 Director Anne Kauffman's production, with the help of ingenious scenic design by Laura Jellinek, cracks open like an egg, revealing a story we thought might fit easily in our palms to be something altogether more profound and messy and devastating.
Pierce is a consummate performer; the grace and charm he brings to the production form the force of its emotional punch. The rest of the ensemble is top-notch as well, including Brad Heberlee as Nate's best friend Curtis, who takes on a more central role in the play's later half.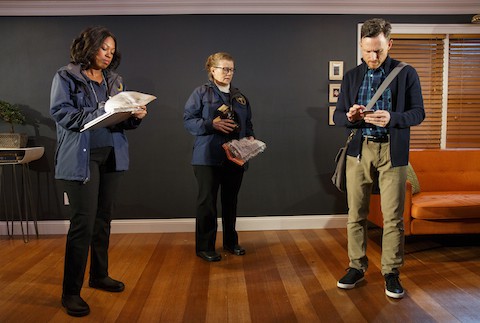 Living on your own in the city, it's possible to feel lonely surrounded by a sea of people, and to feel fully electrified sitting alone in a small apartment, listening to a neighbor shout or a couple bickering on the street. And it's possible to question all of it — everything you did that day, or might do the next — sitting quietly in the dark, surrounded by the lives of strangers on all sides.
Follow Naveen Kumar on Twitter: @Mr_NaveenKumar (photos: joan marcus)