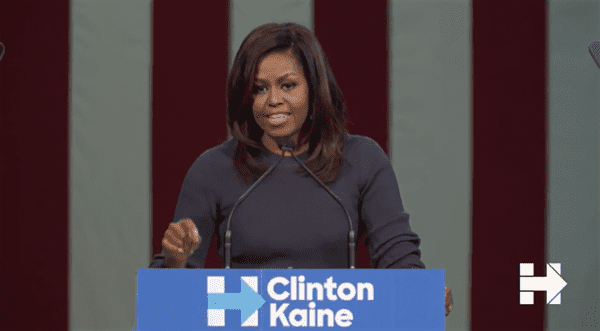 Michelle Obama eviscerated Donald Trump in a blistering, impassioned speech at a Hillary Clinton campaign rally in Manchester, New Hampshire on Thursday.
Connecting allegations of sexual assault surrounding Trump to her own efforts to bring education to young girls around the world, Obama said she could not ignore how Trump has treated women.
"It would be dishonest and disingenuous to move on to the next thing like it's all just a bad dream," Obama told the crowd.
"I can't believe that I'm saying that a candidate for president of the United States has bragged about sexually assaulting women. It has shaken me to my core in a way I couldn't have predicted."
Almost certainly referring to multiple reports that surfaced late on Wednesday in which several women came forward alleging Donald Trump sexually assaulted and groped them, Obama declared, "It now seems very clear that this isn't an isolated incident."
The First Lady implored voters not to buy into the narrative that accusations against Trump are just 'politics as usual.' "Too many people are treating this as just another headline," she said. "This is not normal. This is not politics as usual."
She continued:
"This is disgraceful. It is intolerable. It doesnt matter what party you belong to…no woman deserves to be treated this way. […]
This isn't about politics. This is about basic human decency. […]
Now is the time for all of us to stand up and say enough is enough. This has got to stop right now. Because consider this, if all of this is painful to us as grown women, what do you think it's doing to our children?
Obama went on to rebuke Trump's excuse for his 'grab them by the p—y' remarks–you'l recall he deemed those remarks mere 'locker room talk' and said they were not evidence that he is a serial sex offender. "This is not something we can ignore," Obama said. "This wasn't just locker room banter." The First Lady added, "I can tell you that the men in my life do not talk about women like this…To dismiss this as locker room talk is an insult to decent men everywhere."
Watch the full speech, below.
UPDATE: Hillary Clinton has personally responded to Obama's speech, thanking her on Twitter.
.@FLOTUS, I'm in awe. Thanks for putting into words what's in so many of our hearts. -H

— Hillary Clinton (@HillaryClinton) October 13, 2016
PREVIOUSLY: Top highlights from Obama's speech, below.
"The measure of any society is how it treats its women and girls." —@FLOTUS https://t.co/SwCSNpqfJ2

— Hillary Clinton (@HillaryClinton) October 13, 2016
"Now is the time for all of us to stand up and say, enough is enough." —@FLOTUS on Trump https://t.co/rLgM6tYu8V

— Hillary Clinton (@HillaryClinton) October 13, 2016
"On November 8, we can show our children that we reject hatred and fear." —@FLOTUS: https://t.co/tTgeqxNqYm https://t.co/0pnvt9gqM9

— Hillary Clinton (@HillaryClinton) October 13, 2016