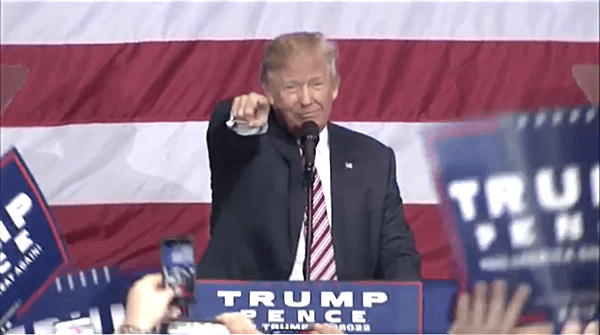 Donald Trump on Thursday said he would "totally accept" the results of the 2016 presidential election–but only if he wins.
Trump told a crowd of supporters, "I would like to promise and pledge to all of my voters and supporters and to all of the people of the United States that I will totally accept the results of this great and historic presidential election–if I win."
Trump: I'll "accept the results of this great and historic presidential election if I win." https://t.co/63MIBIUMp0 https://t.co/Qaak5Vvhmc

— ABC News (@ABC) October 20, 2016
Trump's remarks came on the heels of his comments in Wednesday night's debate in which he refused to say whether he would accept the outcome of the presidential election as legitimate.
Said Trump to moderator Chris Wallace, "I will look at it at the time…I will keep you in suspense."
As NBC's Hallie Jackson reports, Trump has a history of backing off claims that a contest is rigged if (and seemingly only if) he wins that contest:
At a May 2016 rally in Charleston, WV, shortly after he secured enough delegates to become the presumptive Republican nominee, Trump mused on his past claims of a "rigged system" within the GOP primary.
"Now I don't say it anymore because I won," Trump said. "Ok. It's true. You know now I don't care. I don't care."
Trump also bizarrely claimed on Thursday that Clinton was able to see Wallace's questions prior to the debate, yet has offered not evidence to support this claim.
https://twitter.com/realDonaldTrump/status/789117930801926148?ref_src=twsrc%5Etfw
During that third and final presidential debate, moderator Chris Wallace made clear that he had not shared his questions ahead of time.
"For the record, I decided the topics and the questions in each topic. None of those questions has been shared with a commission or the two candidates," the Fox News anchor said, according to a transcript of the event.
Clinton's campaign did not immediately respond to a request for comment.