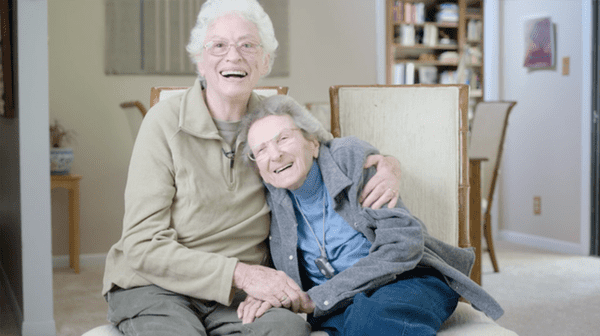 The Human Rights Campaign has released a new campaign ad for North Carolina Attorney General Roy Cooper featuring an adorable lesbian couple that have been together for 50 years.
Cooper is challenging Republican incumbent Pat McCrory for the governor's mansion come November 8. McCrory signed HB 2, the infamous anti-LGBT 'bathroom bill', into law and has repeatedly defended it. Cooper, however, has been a vocal critic of the discriminatory legislation.
In the new ad, Lennie Gerber and Pearl Berlin share their story of fighting for equality in North Carolina and the moment they got a special call from Cooper.
In the ad, Lennie talks about the congratulatory phone call she and Pearl received from Attorney General Cooper after their marriage was finally legalized: "That just shows how supportive he has been. I said to him 'Well, I hope the next time I talk to you I will say Governor Cooper.' He's a good man."
"Lennie and Pearl are proof that despite overwhelming challenges, love will always trump hate," said HRC President Chad Griffin. "In North Carolina, thousands of pro-equality voters like Lennie and Pearl have the opportunity to defeat Pat McCrory and send pro-equality champion Roy Cooper to Raleigh to help repeal the discriminatory HB2."
Equality NC Executive Director Chris Sgro said, "My friends Lennie and Pearl said it best, 'The prejudice that still exists is very sad to me.' This isn't representative of North Carolina values. It's time for LGBTQ voters to send a message to Pat McCrory and his cronies in Raleigh that we are better than this, and we deserve better from our elected leadership. I hope everyone joins Lennie, Pearl, and me in voting for Roy Cooper."
Real Clear Politics shows Cooper maintaining a small lead over McCrory in the Tar Heel State.

Watch Lennie & Pearl, below.
[h/t JMG]