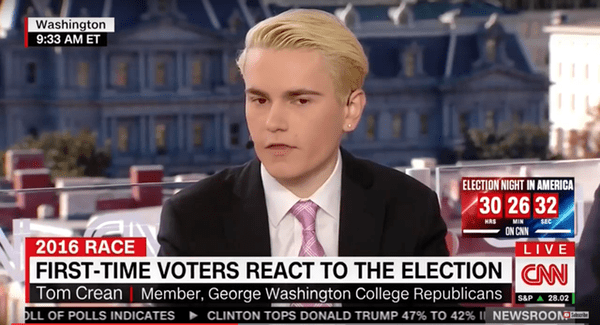 A young Republican resembling Harry Potter character Draco Malfoy went on CNN on Monday to explain why he's supporting Donald Trump, and the internet had a field day.
CNN interviewed George Washington University freshman and first-time voter Tom Crean on Monday to discuss his support for Donald Trump. Crean told "CNN Newsroom" the Republican nominee is a "compassionate and intelligent man" whose words are "taken out of context and manipulated by his political enemies."
https://www.youtube.com/watch?v=FrCWvjS2O3w
Read some of the reactions to Crean's CNN segment, below.
It's Draco Malfoy. They got Draco Malfoy to relate to young people. https://t.co/DRJiMfflzY

— Ken Tremendous (@KenTremendous) November 7, 2016
great perspective here from malfoy and longbottom pic.twitter.com/8dnYdpKEzn

— ceeks (@70Ceeks) November 7, 2016
https://twitter.com/ethank/status/795650542034817025?ref_src=twsrc%5Etfw
Effing Malfoy https://t.co/Umjc4TvWDi

— Keith Olbermann (@KeithOlbermann) November 7, 2016
https://twitter.com/MikeBookerrr/status/795652650612228097
Draco Malfoy hasn't aged at all. https://t.co/ssUEu9d3lX

— Sabrina Siddiqui (@SabrinaSiddiqui) November 7, 2016
"When I was the leader of Slytherin House, I said that I wanted to Make Hogwarts Great Again so I can identify with this movement" pic.twitter.com/hSMztEybGP

— Chaps (@UncleChaps) November 7, 2016
https://twitter.com/owillis/status/795647132367781889?ref_src=twsrc%5Etfw
BREAKING ON CNN: DRACO MALFOY ENDORSES DONALD TRUMP (via @LJSelsky) pic.twitter.com/uPODYLMd5Y

— Ellie Hall (@ellievhall) November 7, 2016
https://twitter.com/missyasin/status/795636552881831936
https://twitter.com/nickwingfield/status/795690167826661376