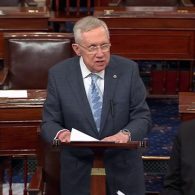 WHITE SUPREMACIST IN THE WHITE HOUSE. Harry Reid blasts Donald Trump appointment of former Breitbart editor Steve Bannon: "If Trump is serious about seeking unity, the first thing he should do is rescind the appointment of Steve Bannon."
BECAUSE OF COURSE. CNN is hawking a book on the 2016 election called Unprecedented, like its employment of Corey Lewandowski.
SEXIEST MAN ALIVE. Dwayne The Rock Johnson talks about a future White House run: "If I felt like I could be an effective leader for us, and surround myself with really high-quality leaders, then sure, I would."
BAD BLOOD. Andy Cohen tried to make a joke about Katy Perry to Taylor Swift.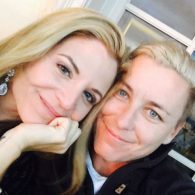 LOVE IS LOVE. US soccer star Abby Wombach is in a relationship with a Christian mommy blogger. 
POPULAR VOTE. Hillary Clinton's lead now surges to over 1 million: "Votes are still being tabulated in California, Utah and Washington, according to Tracy Lewis, elections operations manager for the Associated Press. The result in Michigan remains too close to call."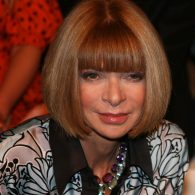 THE DEVIL WEARS PRADA. Anna Wintour and Miuccia Prada talked about the book and the movie once: "For a while it seemed that that association was the only flattering thing about the enterprise, and Miuccia and I never discussed it. Finally, at one of our lunches, she leaned across the table and she said, 'Anna, that book, it's good for both of us.' And the subject has never come up again."
NOPE. New Balance poorly responds to endorsement from a Neo Nazi blog that called them "The Official Shoes of White People": "And while they seem to be inching closer towards a condemnation of Donald Trump's ideologies, they continue to tip toe around the issue that gave rise to this brouhaha in the first place. Why not just say, "We do not want the endorsement of Neo Nazis and if you are a Neo Nazi please stop wearing our shoes." Is it really that hard to plain and simple condemn Neo Nazis? This seems to be an attempt to not ostracize any customers or even, yes, Trump himself."
— New Balance (@newbalance) November 15, 2016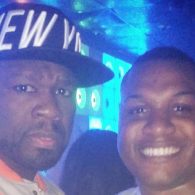 PHILADELPHIA. 50 Cent hit up a gay club to promote his vodka: "Voyeur, a popular LGBTQ nightclub in the Gayborhood, is co-owned by brothers Billy Weiss and Michael Weiss, who are also the co-owners of Woody's, across the street. The latter bar has been in the news lately over  alleged covert racism in their dress code policies. But Saturday night, Billy Weiss was all about "reaching out to the community." […] Interestingly enough, the rapper seems not to want his fans to know he was in the Gayborhood because he hasn't posted anything about his appearance on social media during or leading up to the event despite doing so excessively for the straight clubs he was also booked at."
POST TRUMP ADVERTISING. Airbnb preaches and pledges acceptance in new moving ad: "There are 24 faces that only represent a sliver of the diversity we have on the platform," says Mildenhall. "The film's power laid in the faces. It's a lot more difficult to deny to someone while looking them in the eyes."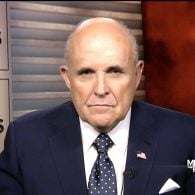 CROOKED RUDY. After blasting Clinton Foundation for being corrupt, it comes out that Rudy Giuliani took money from Qatar, Venezuela and Iranian exiles–a move that could present a conflict of interest if Trump appoints him Secretary of State: "In 2011, an exiled Iranian political party called the Mujahedin e-Khalq, known as the MEK, paid Giuliani to give a speech in Washington calling on the State Department to remove the group from its list of terrorist organizations. The MEK recruited a host of other formal officials to its cause and succeeded in reversing the terrorist designation in 2012. A subsidiary of Giuliani's consulting firm, Giuliani Partners, advised Qatar's state-run oil company on security at a natural gas plant, The Wall Street Journal reported. Qatar is a U.S. ally that hosts a major American military base but once stifled an attempt to arrest Khalid Sheikh Mohammad, who went on to mastermind the Sept. 11 attacks, according to the 9/11 commission report."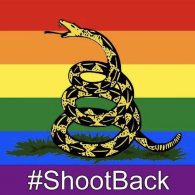 GIRL, IT'S YOUR SECOND AMENDMENT. Tyson Beckford and Suleiman Yousef to offer "firearms self-defense classes" for free in Miami to LGBT folks:  "Ever since the Orlando shooting @tysoncbeckford and I have been working on some projects to give back to the masses. In mid/late December we will be hosting multiple firearms self defense classes for FREE in Miami Florida to the #LGBT community. Sad to say that we both stand behind our 2nd Amendment but the masses in the industry who preach "God and Country" are EXTREMELY homophobic and we won't stand for it. We will be posting the dates and location after December 1st."
EMAILS. Mike Pence–who blasted Hillary on her use of a private email server–is in an email scandal of his own: "The administration is fighting to conceal the contents of an email sent to Gov. Mike Pence by a political ally. That email is being sought by a prominent Democratic labor lawyer who says he wants to expose waste in the Republican administration."
INSTATHIRST. Brought to you by Phillip.
https://www.instagram.com/p/BLoxNzvhSXP/
https://www.instagram.com/p/BIVWqyahfzC/
https://www.instagram.com/p/BJFHoNehITc/