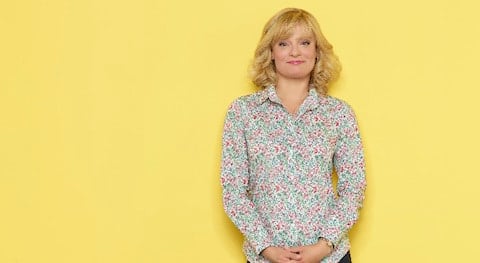 Let's get one thing straight: Martha Plimpton makes everything better. Whether you first fell in love with her as tough-talking Stef in The Goonies, a high-strung hostess in 200 Cigarettes or the new reluctant, resourceful grandmother on Raising Hope, the star of stages and screens big and small steals nearly every scene she's in.
As the reigning matriarch on ABC's The Real O'Neals, Plimpton might not be the mom every young gay boy wants, but she is certainly close to the mom a lot of us had. Her character Eileen O'Neal is reconciling her Catholic faith, her divorce and her youngest son's coming out.
The show's refreshing take on the coming out story (aided in authenticity by executive producer Dan Savage) is anchored by strong performances from Noah Galvin and, of course, Plimpton.
We talked to Martha about how her character has grown, the difference between Eileen and Archie Bunker and more. See what she had to say in our exclusive interview, below.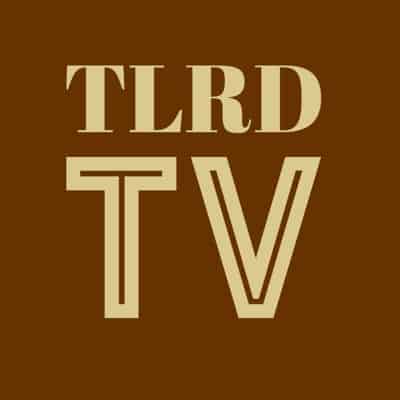 Eileen's faith is a huge part of what drives the character. She's been perhaps the most tested on the show so far. How have you seen Eileen grow since the beginning of the series?
Well, I think we've seen her grow a lot just in terms of the steady encroachment of reality into her thought processes as far as other people's truths, learning to accept those truths, and not trying to control them or change them because they make her uncomfortable.
This is something that a lot of people experience, whether they're Catholic or not. This is hard for a lot of parents, to watch their kids grow up and leave the nest, each in their own ways. One of the things that's really moving me and touching me week after week is hearing particularly from young gay men on Twitter and out in the world who say how much this relationship between Eileen and Kenny reminds them of their own relationships with their moms, and how much it means to them to see that relationship on television and to see those negotiations and those fights and those moments of reckoning played out as normal realities of life. I've found that incredibly moving.
I've also found it moving when I've heard from some moms of gay sons who really relate to Eileen and feel like in some bizarre way we're sort of strangely offering a model and helping them feel like they're not alone too in this struggle, in this readjustment, in this realization that perfection is not what you think it is all the time.
So that's been really moving, and we get there through these small and gentle forward motions. Certainly on the show I feel like Eileen is experiencing that process week after week.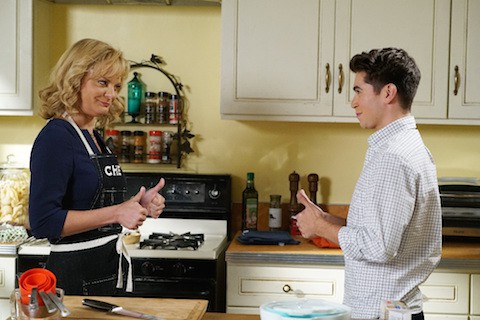 It's a delicate balance to keep Eileen truthful without having her come off as hateful. Is that something you try to keep in mind?
I think we all do. The writers do as well. As much as our show is focused on telling the very normal coming-of-age story of a young, gay man, I think our writers are also not just writing for gay kids out there. Because many of them are gay themselves, I think, in some ways, they're writing for their parents too.
They're speaking to their own parents in the writing. They're negotiating their relationships in the writing, too. I feel like there's a natural empathy there that our writers have that is really wonderful. I don't have to worry too much about being too mean or being a bigot, because she's not a bigot. I don't think we're coming from that perspective.
We're coming from the perspective of how do you approach your life and family relationships in this new reality when what you've thought was the way you had to be is impossible? And the new reality provides so much ample opportunity for so much more richness and openness you just didn't know was there before.
That's what I think makes the show special. She's not Archie Bunker, but she has elements of that. She is [Kenny's] antagonist. Archie Bunker was a flat-out bigot. It took him about 10 years to see some glimmers of hope with him. Of course, he's one of the great characters of all time in television comedy, but Eileen is different. She's not that kind of antagonist. She loves her kids a lot. She's a sucker for love, Archie Bunker was not.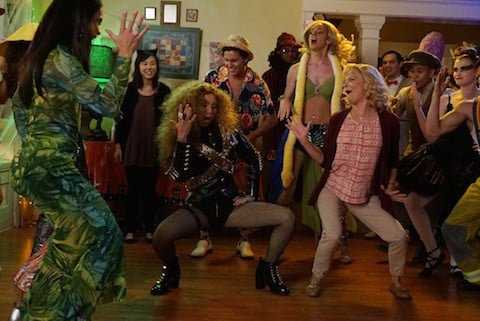 You're a bit of a gay icon and have had a large gay following through a lot of your work. What do you think it is about you that speaks to the gay community?
Well, it's a funny thing. I don't know what that is! I've grown up in New York City, in the theater world, all my life I have known, loved and been family members — to one degree or another, either blood or otherwise — with all kinds of LGBTQ people, but I don't know what that is. … Maybe it's because I'm kind of brassy sometimes. I'm kind of a broad. I think that appeals to people who have grown up in a world in which, to one degree or another, they feel like they need to defend their existence.
I'm the same way, in some ways. I admire people who are just themselves, who make no apologies for who they are. Maybe that's it. I'm not sure. I don't know. All I can say is I love the idea. It makes me feel so good and delights me, even though I have no way of putting my finger on it.
The Real O'Neals airs tonight at 9:30 p.m. Eastern on ABC.