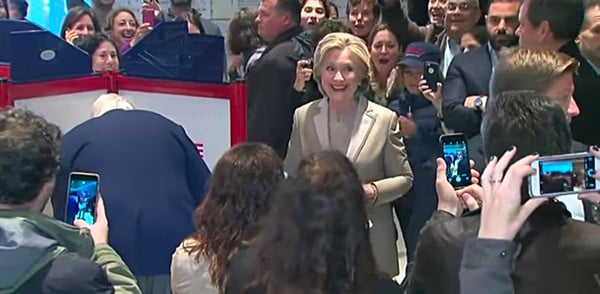 Hillary Clinton, accompanied by former President Bill Clinton, cast ballots today at Douglas Grafflin Elementary School near their home in Chappaqua, New York.
"It's a humbling feeling," Mrs. Clinton told reporters as she shook hands with supporters gathered outside the polling location.
"I know how much responsibility goes with this," she added, "so many people are counting on the outcome of this election and what it means for our country."
Asked if she thought of her mother, Dorothy Rodham, who was born on the day Congress approved women's right to vote, and whose impoverished childhood formed the backbone of her daughter's campaign, Mrs. Clinton replied, "Oh, I did."
Clinton is spending election night at the Jacob Javits Convention Center in Manhattan.
RELATED: An LGBT Guide to Election Night: Schedule, Races, Candidates
Happy Election Day! https://t.co/jfd3CXLD1s pic.twitter.com/IfOBRuvQzJ

— Hillary Clinton (@HillaryClinton) November 8, 2016
Watch: