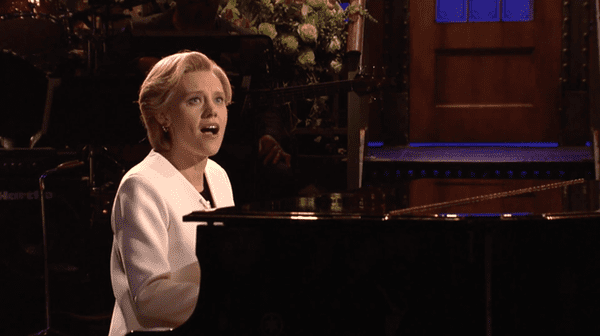 Kate McKinnon performed Leonard Cohen's iconic song "Hallelujah" as Hillary Clinton during SNL's cold open on Saturday night, leaving everyone watching an absolute mess.
McKinnon's performance comes on the heels of Hillary Clinton's devastating loss to Donald Trump and the passing of music great Cohen this past week.
McKinnon became visibly emotional during the final bridge of her performance, whose lyrics seemed to strangely resonate with Clinton's ill-fated fight for the presidency. McKinnon sang,
I did my best, it wasn't much
I couldn't feel, so I tried to touch
I've told the truth, I didn't come to fool you
And even though
It all went wrong
I'll stand before the Lord of Song
With nothing on my tongue but Hallelujah
McKinnon ended the performance with a firm but teary remark direct to camera that will no doubt become the motto for many on the left in the days, weeks, and years to come: "I'm not giving up and neither should you."
Watch, below.