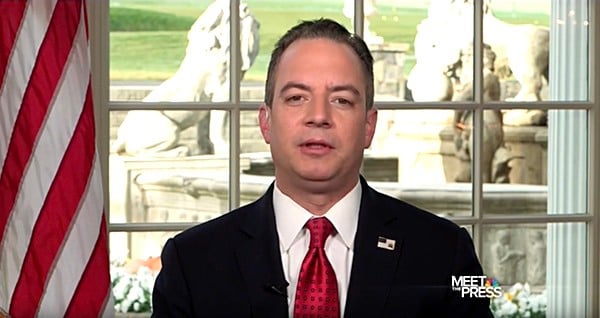 Donald Trump's Chief of Staff Reince Priebus told Chuck Todd on NBC's Meet the Press that Trump's consideration of Rudy Giuliani and meetings with Mitt Romney show that Trump is reaching out to all Americans.
Todd also asked Priebus how they're organizing a blind trust of Trump's businesses and how can he prove that he's not going to use the presidency to profit, citing reports that ambassadors in DC were encouraged to have their visiting delegations stay at the Trump Hotel in DC.
Said Priebus: "No, it's not true at all. I think what you have here is truly a unique situation. You have an international business person that has done incredibly well in life that is now going to work toward focusing 24/7 on being President of the United States and setting up a system, a legal system to shield himself from any and all conflicts."
Asked if he could equivocally rule out a registry for Muslims, Priebus replied:
"Look, I'm not going to rule out anything. But, we're not going to have a registry based on a religion. But, what I think we're trying to do is say that there are some people that are radicalized and there are some people that have to be prevented from coming into this country."
Does President-elect Trump agree with General Flynn that fear of Muslims is rational?
"He believes that no faith in and of itself should be judged as a whole but there are some people in countries abroad that need to be prevented from coming into this country."
Watch: