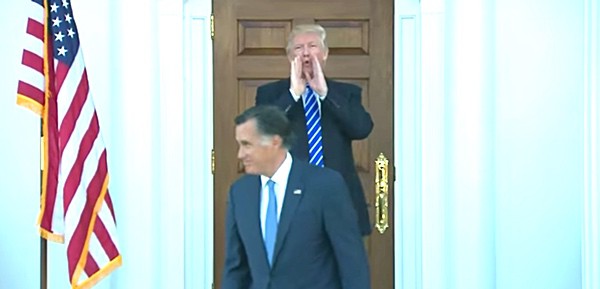 Mitt Romney, who called Donald Trump a "phony", "a con man", a "fake", and a "fraud" in a speech denouncing him in March met with Trump on Saturday at his New Jersey golf club because Trump is reportedly considering naming him Secretary of State.
Here's a couple of the things Romney said about his potential boss in March:
"His promises are as worthless as a degree from Trump University. He's playing the American public for suckers: He gets a free ride to the White House and all we get is a lousy hat."
Romney added:
"His domestic policies would lead to recession. His foreign policies would make America and the world less safe. He has neither the temperament nor the judgement to be president. And his personal qualities would mean that America would cease to be a shining city on a hill."
Romney was singing a different tune on Saturday.
"We had a far-reaching conversation with regards to the various theaters in the world where there are interests of the United States of real significance. We discussed those areas and exchanged our views on those topics. A very thorough and in-depth discussion in the time we had and, I appreciated the chance to speak with the president-elect and look forward to the coming administration."
The NYT reported:
A senior adviser described the meeting, in part, as Mr. Romney simply coming to pay his respects to the president-elect and "kiss his ring."
Romney walked away when the press shouted, asking whether he repudiated the comments calling him a con man: "Do you still think he's a con artist, sir?"
Watch: