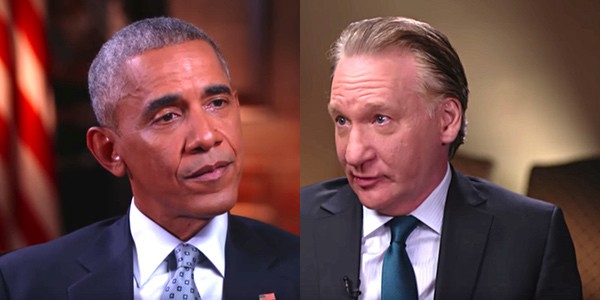 Bill Maher finally got to sit down with President Obama after months of on-air pleas for the 44th president to join him on the show. Maher conducted a wide-ranging, serious interview that lacked the host's typical sarcasm but did have its moments of levity.
On the agenda was socialism as it relates to health care, prisons (the judicial system and the profit motive), and media:
"How do we create a space where truth gets eyeballs?" the President wondered. "People have difficulty now just sorting out what's true and what's not."
Obama also spoke about how he feels about leaving the White House:
"It is time. This has been a great run. I've loved this job. It is a singular privilege. I think I am as good a president now as I've ever been….I now see the wisdom of the founders, at a certain point — you have to let go for the democracy to work. There has to be fresh legs. You have to have the humility to recognize that you are a citizen and you have to go back to being a citizen when this office is over."
Maher moved on to some of his own key issues: marijuana laws, the opioid drug crisis, atheism.
And finally they moved on to the election.
Said Obama:
"The stakes are high; I know we are getting the gong but I will say this. The choice in the election should be really clear. I've worked with Hillary, I know her, she cares deeply about ordinary folks, her policies are aligned with yours and mine. Anybody sitting on the sidelines or deciding to engage in a protest vote — that's a vote for Trump and that will be badly damaging for this country — and that will be damaging for the world."
Watch the full interview: