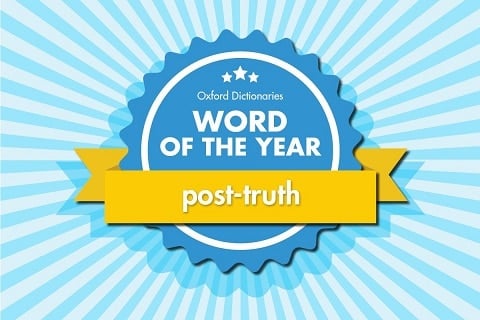 The election season has thrown a number of words and terms – many of them less than pleasant – into the mainstream. "Snowflake," anyone? The horrendous "libtard"?
Every year Oxford Dictionaries selects a word of the year. Former winners have included "big society" (2010) and the brilliant "omnishambles" (2012).
Words shortlisted this year include adulting, woke, alt-right, hygge, brexiteer and coulrophobia.
The winner?
Post-Truth.
According to RTE, the word has been in existence for more than two decades but a rise in its use coincided with the Brexit referendum and Election 2016.
The dictionary defines "post-truth" as:
"Relating to or denoting circumstances in which objective facts are less influential in shaping public opinion than appeals to emotion and personal belief."
The Oxford Dictionaries Word of the Year 2016 is… post-truth! Find out why we chose it: https://t.co/jxETqZMxsu pic.twitter.com/0XRDbAwjQ4

— Oxford Languages (@OxLanguages) November 15, 2016
President of Oxford Dictionaries Casper Grathwohl said:
'It's not surprising that our choice reflects a year dominated by highly-charged political and social discourse.
"Fueled by the rise of social media as a news source and a growing distrust of facts offered up by the establishment, 'post-truth' as a concept has been finding its linguistic footing for some time.
"We first saw the frequency really spike this year in June with buzz over the Brexit vote and again in July when Donald Trump secured the Republican presidential nomination.
"Given that usage of the term hasn't shown any signs of slowing down, I wouldn't be surprised if 'post-truth' becomes one of the defining words of our time."
The earliest use of the word with the currently defined meaning was playwright Steve Tesich's 1992 essay on the Iran-Contra scandal and the Gulf War.
Watch an OED explainer on the use of 'post-truth' below.