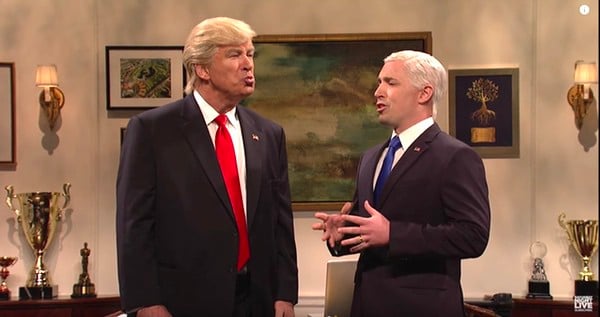 Saturday Night Live moved on this week from the grim campaign to the grimmer realities of a Donald Trump administration.
They find Alec Baldwin's Trump holed up at his golf course mulling his next four years worried about what people think of his cabinet appointments, and how he's going to deal with ISIS and his promises to bring back jobs, build a wall between the US and Mexico, and deport millions of immigrants.
Trump's answer is to repeat a calming mantra: big beautiful boobs and buildings, big beautiful boobs and buildings.
He also gets an awkward visit from Mitt Romney (Jason Sudeikis is back) and Mike Pence, who makes Kate McKinnon's Kellyanne Conway throw up in her mouth.
Pence's booing at Hamilton gets a small mention, though the message is clear, that the American people hate Pence almost more than they hate Trump:
Says Baldwin's Trump: "I love you Mike. You're the reason I'm never gonna get impeached."
The show has infuriated Trump, who tweeted about it this morning, but maybe he's just trying to distract people from the $25 million FRAUD settlement he just paid.
https://twitter.com/realdonaldtrump/status/800329364986626048
Watch: