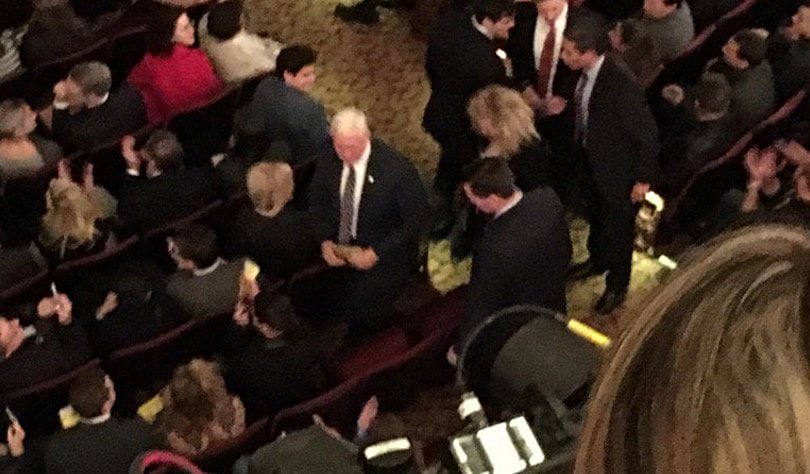 Following a campaign in which he insulted and harassed millions of Americans, President-Elect Donald Trump is suddenly a fan of "safe spaces" and called out the cast of Broadway's Hamilton for their message to VP-Elect Mike Pence in a series of tweets on Saturday morning.
As we reported last night, Pence was booed by the audience at a performance of the hit musical and received a special message from the cast as he left, asking him to respect diversity and the rights of all Americans.
Said Trump:
"Our wonderful future V.P. Mike Pence was harassed last night at the theater by the cast of Hamilton, cameras blazing.This should not happen! The Theater must always be a safe and special place.The cast of Hamilton was very rude last night to a very good man, Mike Pence. Apologize!"
https://twitter.com/realdonaldtrump/status/799972624713420804
https://twitter.com/realDonaldTrump/status/799974635274194947
Cast member Brandon Dixon, who read the message, responded to Trump:
conversation is not harassment sir. And I appreciate @mike_pence for stopping to listen.

— Brandon Victor Dixon (@BrandonVDixon) November 19, 2016
This was the "rude" message delivered to Pence, read by Dixon:
"We have a message for you sir. We hope that you will hear us out.
"Vice President.elect Pence we welcome you and we truly thank you for joining us here at Hamilton, An American Musical, we really do. We sir, we are the diverse America who are alarmed and anxious that your new administration will not protect us – our planet, our parents, our children – or defend us or uphold our inalienable rights, sir. But we truly hope that this show has inspired you to uphold our American values and to work on behalf of all of us. All of us. Again we truly thank you for sharing this show, this wonderful American story told by a diverse group of men, women, of different colors, creeds, and orientations."
Watch:
Tonight, VP-Elect Mike Pence attended #HamiltonBway. After the show, @BrandonVDixon delivered the following statement on behalf of the show. pic.twitter.com/Jsg9Q1pMZs

— Hamilton (@HamiltonMusical) November 19, 2016
Unreal scene here – Mike Pence walks in and there's a massive mix of cheers and boos. pic.twitter.com/GVZ5L67mA3

— Noah Coslov (@NoahCoslov) November 19, 2016