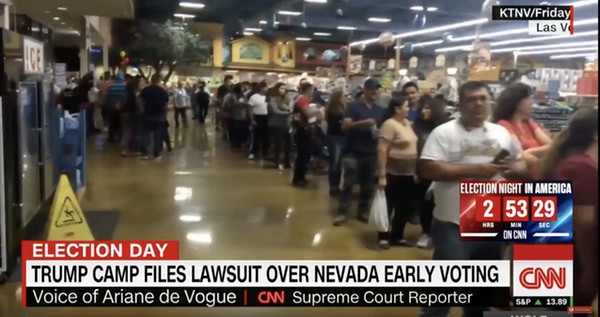 The Trump campaign is suing heavily-Latino Clark County in Nevada for allowing people who were in line at closing time to vote, which is the law.
The extension happened on the final day of early voting this week.
They are suing Joe P. Gloria, the Clark County registrar of voters, over a decision they allege he made to keep polling locations open "two hours beyond the designated closing time." The lawsuit targets polling places in the greater Las Vegas area that have larger minority voting precincts.
Dan Kulin, a spokesperson for the county, told CNN that no early voting stations extended their closing times. They did, however, process voters who were in line at closing time to allow as many people to vote as possible.
Trump lawyers are asking for an order to have the pertinent early vote ballots not to be "co-mingled or interspersed" with other ballots.
"From the polling, it appears that Nevada is so close that the Trump campaign thinks it's worth challenging any violation in voting protocol. The numbers that came in could represent several thousand people across the four precincts, which could determine who wins the electoral college vote or change the Senate race," said Robert Lang of the University of Nevada, Las Vegas. He said the Trump campaign is "smart to put a marker down for a future challenge, considering what happened in 2000 in Florida."
Nevada state law says voters who are in line at 8 p.m., when the polls close, must be allowed to cast their ballots. The lawsuit, filed in a Nevada state court on Monday, said election officials violated state law because they allowed people to join the line after 8 p.m. at a polling location at a Latino market.
https://www.youtube.com/watch?v=PSfullAVbqQ
Trump appears to be laying the groundwork to challenge the results should he be defeated:
Here's the Nevada statute requiring polling places to stay open for voters who got in line by closing time. pic.twitter.com/hUhcTOKdcC

— Sahil Kapur (@sahilkapur) November 8, 2016
From Trump's NV lawsuit. Seems like he's laying the groundwork to contest the result, and thus refuse to concede. pic.twitter.com/uEnxrRuxzt

— Sahil Kapur (@sahilkapur) November 8, 2016
Scene from NV, where @realDonaldTrump has challenged Clark Co. votes and doesn't seem to be winning. https://t.co/3EWYcYwH6y

— David Fahrenthold (@Fahrenthold) November 8, 2016
UPDATE:
The judge in Clark County isn't having it:
Clark County judge Gloria Sturman tore into Trump's lawyers on Tuesday afternoon. "Are [the votes] not to be counted?" she asked, exasperated, to Trump's lawyer during a hearing on Tuesday. "What are you saying? Why are we here? You want to preserve the poll data? That is offensive to me. Why don't we wait to see if the secretary of state wants to do this?"
In a legal action filed Monday, the campaign accused the Clark County registrar of keeping an early voting location open for two extra hours to aid Democratic turnout. Clark County Judge Gloria J. Sturman said at a hearing today that the campaign failed to take up its problems with county officials before coming to court…
…After complaining to the state official overseeing elections, the Trump campaign is seeking an emergency order to set aside the ballots and voting machines from four early-voting locations so that they can be adjudicated after the election. But Judge Sturman denied that request because the campaign hadn't tried to work out a solution with the county registrar.
"There's been a failure to exhaust administrative remedies," she said at the hearing, which was broadcast over the internet. "I am reluctant to impose any obligation by court order on our registrar of voters, who is a very busy man and does an excellent job for all of us."
The Trump campaign wants to make names of Nevada poll workers public. Judge's response: pic.twitter.com/tes99IMbbH

— Deadspin (@Deadspin) November 8, 2016