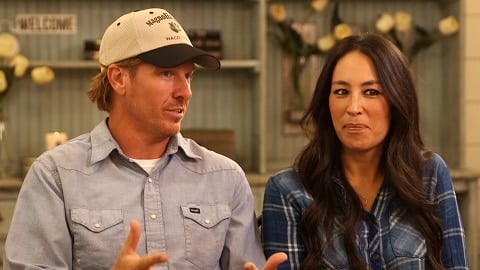 An article highlighting HGTV hosts Chip and Joanna Gaines' membership in an evangelical anti-gay church has come under attack for speculating about the couple's views on homosexuality.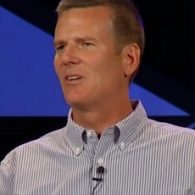 In a post published on BuzzFeed earlier this week, journalist Kate Aurthur notes:
"[Fixer Upper hosts Chip and Joanna Gaines' church] Antioch Community Church, is a nondenominational, evangelical, mission-based megachurch. And their pastor, Jimmy Seibert (right), who described the Gaineses as 'dear friends' in a recent video, takes a hard line against same-sex marriage and promotes converting LGBT people into being straight.
"So are the Gaineses against same-sex marriage? And would they ever feature a same-sex couple on the show, as have HGTV's House Hunters and Property Brothers?"
The article goes on to detail Seibert and the church's opinions on homosexuality and same-sex marriage. It notes that Seibert said "God defined marriage, not you and I," that homosexuality is a sin and that "the statistics say that 90% of people who are in a full-blown homosexual lifestyle were abused in some way."
However, Brandon Ambrosino, a gay Christian writer who is about to marry his same-sex partner, has come to the Gaines' defense in an article published by the Washington Post.
Ambrosino called BuzzFeed's article a "hit piece":
"I have heard from a few well-meaning Christian friends that they feel they can't attend my [wedding] ceremony. I think that's silly, I think it's theologically misguided, and it hurts me deeply because it makes it seem as if they care more about abstract principles than me, their friend and family member.
"Still, I do not think these conservatives should be shamed or mocked. I do not think they should be fired. And I certainly do not think they should be the butt of a popular BuzzFeed article.
"The entire article is an elaborate exploration of that hypothetical question [do the Gaines' support same-sex marriage]. And yes, it is very much hypothetical, by the reporter's own admission…
"But that does not stop [Kate] Aurthur from writing almost 800 more words about the non-story. Her upshot seems to be: Two popular celebrities might oppose same-sex marriage because the pastor of the church they go to opposes same-sex marriage, but I haven't heard one way or the other. (I can't imagine pitching that story to an editor and getting a green light, by the way.)"
Ambrosino goes on to examine a number of problems he sees with Aurthur's piece: it suggests that the one in four people who do not support gay marriage are unemployable and that as public figures they are not entitled to moral and religious opinions.
This targeting of Christians for their beliefs needs to stop. https://t.co/LO90sOEx1m

— Warren Davidson (@WarrenDavidson) December 1, 2016
Ambrosino also points out that the article backs up "everything that President-elect Donald Trump's supporters have been saying about the media: that some journalists — specifically younger ones at popular digital publications — will tell stories in certain deceitful, manipulative ways to take down conservatives."
He concludes that "it is no longer okay — indeed, it never was — to write cutesy articles shaming religious people as homophobic for simply being one of the many millions of Americans in 2016 who attend a religious congregation that does not support same-sex marriage. That is not a good move for activism or journalism."
Writing for conservative publication The Federalist yesterday, Hans Fiene noted:
"This could be a great teaching moment for the crusading Left. It would be great for them to learn, via Chip and Joanna Gaines, that not all opponents of same-sex marriage are evil…
"But it seems that BuzzFeed and [other publications] have already chosen their path. Expect them to trash the reputations of yet another couple guilty of nothing but holding 'unpopular' opinions. And if this keeps happening for the next four years, expect Trump to win reelection with 65 percent of the popular vote."
Yesterday, HGTV told the Huffington Post:
"We don't discriminate against members of the LGBT community in any of our shows. HGTV is proud to have a crystal clear, consistent record of including people from all walks of life in its series."
Chip Gaines responded in veiled fashion to the controversy on Twitter, saying, "Be on your guard; stand firm in the faith; be courageous; be strong. DO EVERYTHING IN LOVE."
Be on your guard; stand firm in the faith; be courageous; be strong. DO EVERYTHING IN LOVE.

— Chip Gaines (@chipgaines) December 1, 2016
U know.. even as all hell "appears" to be breaking loose. All I have to do is look at my 4 precious babies sleeping, or kiss Jo good morning

— Chip Gaines (@chipgaines) December 1, 2016
Meanwhile Pastor Seibert has come forward to say his church is not anti-gay. "We are not only not anti-gay, but we are pro-helping people in their journey to find out who God is and who He has made them to be," Seibert said to FOX News.
Watch FOX News' report, below.
Watch the Seibart sermon quoted by Aurthur and an interview with the Chip and Joanna, below.