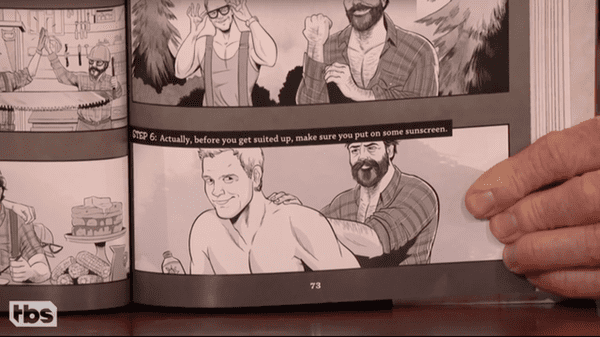 Nick Offerman was on Conan recently to talk about his new book on woodworking and revealed that the book (Good Clean Fun: Misadventures in Sawdust at Offerman Woodshop) includes a homoerotic comic book about him and his buddy/former Parks and Recreation co-star Chris Pratt.
Mr. Megan Mullally told Conan that the four page comic, inset among his tales about woodworking (not a pun), follows Offerman and Pratt as they chop down a tree together in the woods. Conan showed an excerpt from the comic in which Offerman sensually applies sunscreen to Pratt's back.
"Listen, if you're gonna be in the woods messing around with tools, you don't wanna get sunburned," Offerman explains.
Watch, below.