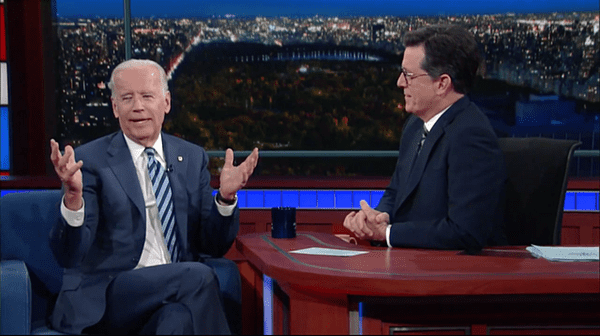 Definitely maybe.
That's about as close an answer Joe Biden gave Stephen Colbert when asked to clarify whether he plans to run against Donald Trump in 2020.
The Vice President stopped by The Late Show on Tuesday night and Colbert attempted to grill him about remarks he made to a reporter saying he will run in 2020–remarks that seemed sarcastic yet also serious.
"Yeah I am. I'm gonna run in 2020…For president. So, you know, what the hell man?" the Vice President told a reporter earlier this week.
Asked by Colbert to clarify that statement, Biden said, "Im a great respecter of fate. I don't plan on running again. But to say you know what's going to happen in four years is not rational."
"That is the sound of a door creaking open is what that is," Colbert quipped.
"Look," Biden replied, "I can't see the circumstances in which I'd run. But what I've learned a long long time ago, Stephen, is to never say never. You don't know what's going to happen. Hell, Donald Trump's going to be 74. I'll be 77 and in better shape."
That door just creaked open a little more.
Watch, below.