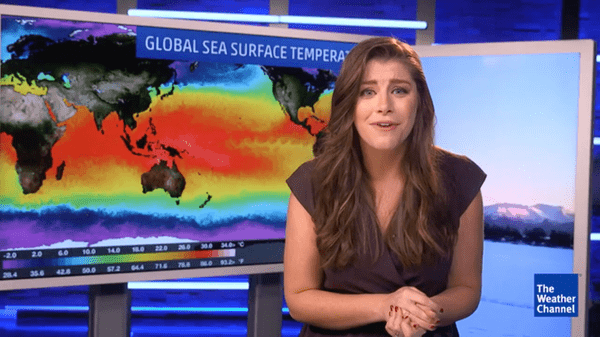 In a video posted on Tuesday, Weather Channel meteorologist Kait Parker ripped Breitbart News for using a video featuring her in an attempt to prove that global warming is not real.
Said Parker,
"[Breitbart] used a completely unrelated video about La Niña, with my face in it, to attempt to back their point."
Now what's worse is that the U.S. Committee on Space, Science and Technology actually tweeted it out. Here's the thing, science doesn't care about your opinion. Cherry-picking and twisting the facts will not change the future nor the fact–note, the fact, not the opinion–that the earth is warming."
.@BreitbartNews: Global Temperatures Plunge. Icy Silence from Climate Alarmists https://t.co/uLUPW4o93V

— Sci, Space, & Tech GOP (@housesciencegop) December 1, 2016
Parker continued to break down how Breitbart utterly failed in understanding how global warming is in fact happening.
Dear #Breitbart, Earth is not cooling, climate change is real and please stop using MY FACE to mislead Americans. https://t.co/8yDnzffdKv

— Kait Parker (@WeatherKait) December 6, 2016
She ended with this adviso for Breitbart:  "Next time you're thinking about publishing a cherry-picked article, try consulting a scientist first."
As for her fellow scientists, she urged them "make the facts louder than the opinions."