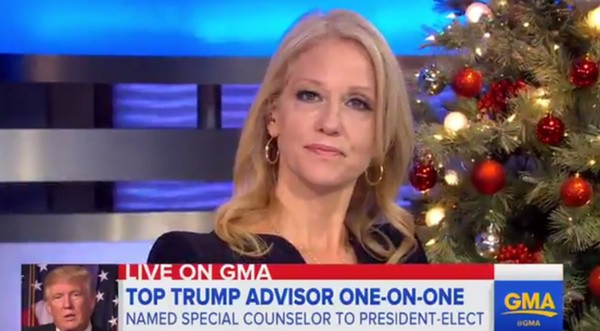 Former campaign manager Kellyanne Conway will be working in the West Wing as 'Counselor to the President', the Trump transition team announced today.
Mr. Trump is deeply fond of Ms. Conway, whose job as counselor will give her frequent access to the president. A "Trump whisperer" during the campaign who was particularly adept at explaining his appeal to voters, Ms. Conway will serve as one of the chief protectors of Mr. Trump's political brand.
Conway appeared on GMA with David Muir and made excuses for Trump's lack of accessibility to the press, though the denounced Hillary Clinton during the campaign for a lack of respect for the same thing.
Conway also stood up for Trump's policy on Muslims, saying "this is not a complete ban" and is tied to "countries where we know they have a history of terrorism."
Conway also made excuses for Trump's cabinet of billionaires, saying that Trump's supporters should look to them as examples of "true American success stories" who will help "the forgotten man and woman." Conway then pivoted to slam Hillary Clinton again.
Watch:
FULL INTERVIEW: Newly named Counselor to the President at the White House @KellyannePolls talks transition, the muslim ban and Inauguration. pic.twitter.com/EcFTIZkAuj

— Good Morning America (@GMA) December 22, 2016