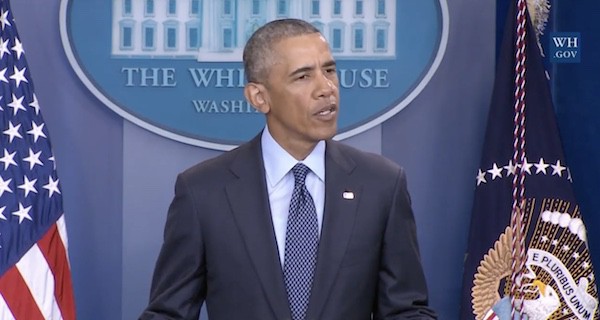 President Obama will hold his final press conference of 2016 at 2:15 PM EST on Friday. You can watch live at the bottom of this post.
As The Washington Post reports, the conference will likely end up focusing on Obama's vow to retaliate against Russia for hacking our presidential election:
Journalists are sure to press Obama on exactly how he will retaliate against Russia for the cyberattacks launched during this year's presidential election, which CIA officials have concluded were aimed at electing Donald Trump. While the president said in an interview aired Friday by NPR that the United States will strike back against Russia "at a time and place of our own choosing," he has not specified what that response would look like.
Other topics could include Republican efforts to dismantle key aspects of Obama's legacy, including the Affordable Care Act, multilateral international agreements on climate change and Iran's nuclear weapons program, and the reopening of diplomatic relations with Cuba.
Also, while it's not Obama's final final press conference (presumably), current mood is all like:
https://www.youtube.com/watch?v=YRHOcskOudg
UPDATE. FBI agrees with CIA that Russia hacked the election.
https://twitter.com/BraddJaffy/status/809845018013954049
Watch the press conference, below.
https://www.youtube.com/watch?v=w2c0pYm44W4