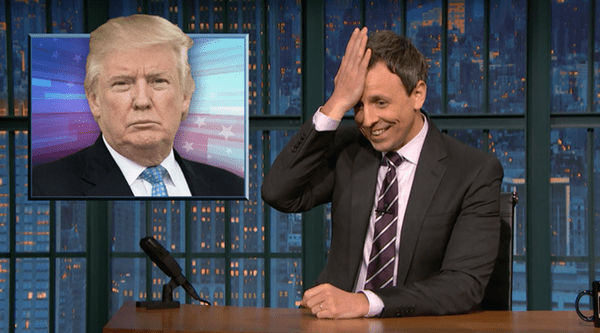 The man hasn't even assumed the office of the president and already he's making a mess of American foreign policy.
Seth Meyers took a closer look on Monday night at how Donald Trump, since becoming president-elect, has managed to bungle U.S. relations with foreign powers.
Said Meyers, "In the last week, we've gotten glimpses of what will likely be two of the most important features of a Donald Trump presidency: his willingness to make false claims with no evidence, and his shoot-from-the-hip approach to foreign policy. And those two things do not mix well."
He went on to note, "When you're dealing with foreign powers in unstable regions, you need sober, analytical thinking and a firm grasp of reality—qualities you definitely do not associate with Donald Trump."
The most troubling thing about Trump being responsible for maintaining America's relations overseas is that he does not believe in facts. Meyers explained, "in a little over a month, Trump will be in charge of our relationships with the rest of the world. And when you're dealing with major foreign powers and conflicts in unstable regions, facts do matter—whether you believe in them or not."
Good luck telling that to Donald Trump.
Watch, below.
https://www.youtube.com/watch?v=E791nErkCXY
[h/t Daily Beast]