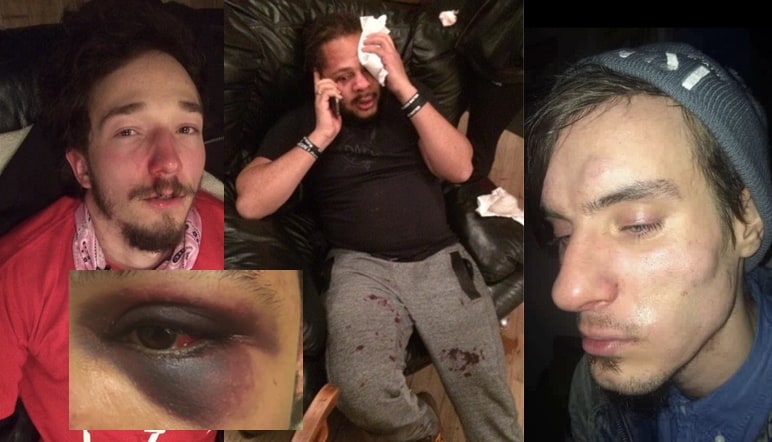 Four activists were attacked by Trump supporters in New York City on Saturday night in an alleged assault witnesses are describing as racist and homophobic in nature. The victims of the attack were named as Peter Soeller, Connor Hicks, Colin Ashley, and Christian Valencia.
15 to 20 activists attending a party marking the end of their three-month organizing campaign space, 'Decolonize This Place', saw what was supposed to be a night of celebration and comradery interrupted by an unprovoked and politically violent hate crime.
Wrote Patti Cruz on Facebook:
At the intersection of Walker street as we were heading out chanting and having fun my comrades and I decided to head out to grab some food after the party at Decolonize This Place; suddenly 4-5 Trump supporters (3hefty/built white guys and one petite Brown Bengali/or Indian guy shocking) approached us and started chanting ,"Trump Trump Trump" "Blue Lives Matter" showing their Blue Lives Matter bracelets and calling us communists & faggots
😡 Collin's face was really injured bleeding , Peter's nose was bleeding non stop, Connar's face was swollen and his jaw was injured, & Christian was limping due to his knee injury as he fought these bigots back.
We had no time to film this racist and disgusting attack because some of us were too busy trying to pull Trump supporters off of Collin and the rest of the comrades. No words can describe how hostile many of us were last night after being slammed against the wall and Clair getting pushed to the ground as we were trying to De-escalate this bs (She had him in a head lock to try to stop him). We retreated back to DTP for medical attention thank you to our comrade/medics who assisted us & everyone else who came out to assist the comrades. F trump. POC , queer, Womxn, Indigenous , & human beings are not safe in these streets and we must fight back!
The attack was an anti-LGBT hate crime, according to those who spoke with Rubinstein:
Asked about the attackers, Caribou told me "I don't even want to say they are alt-right because it politicizes the narrative when it's really just queer bashing. The media is going to look at it like it's the radical left versus the alt-right, but people can ostensibly see that the people that were targeted were queer, black and non-cisgender."
…Ashley wrote to me the following: "I grappled with one of them after he had sucker punched one of the members of our group He ended up on top of me and landed several hits to my face. My face is extremely swollen and eye bruised. What's important to remember is that these guys specifically targeted us as a mixed group of gay men and women of color. They yelled 'faggot,' told others 'go back' to where they're from and specifically pointed to me and yelled: 'He's a fucking faggot.'"
Read Rubinstein's full report HERE.
According to their Facebook page, which does not mention the incident, "Decolonize This Place is a movement space, action-oriented around indigenous struggle, black liberation, Free Palestine, workers and de-gentrification."
The activist group Bash Back responded to the assault with a march last night. They posted the footage to YouTube.
https://www.youtube.com/watch?v=p2EUlV4SbyU
Photos via Facebook.
(h/t raw story)