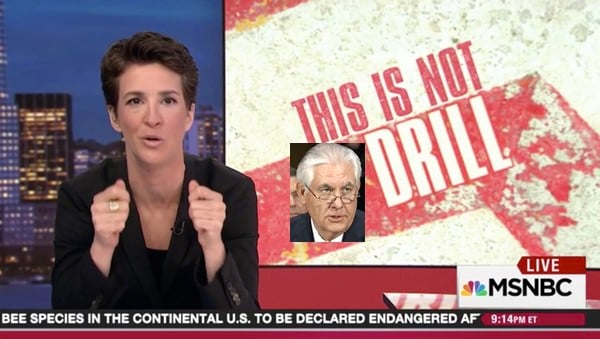 Rachel Maddow reminded us again last night why Exxon CEO Rex Tillerson is gunning to be Secretary of State and how rich his confirmation will make him, Vladimir Putin, and anyone who has oil investment in Russia, to the tune of $500 billion.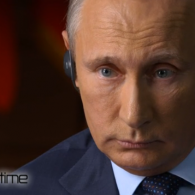 Maddow explained how the 2011 sanctions on Russia put the kibosh on a drilling deal that was about to make Tillerson, Putin, and their cronies very, very rich:
"Exxon can't get its return on its investment (on drilling in Russia). They can't cash in on what they invested in Russia because the U.S. determination that it was in the national interest, the national security interest of our country to put sanctions on Russia that preclude doing that kind of business.
"When our government put sanctions on Russia that really, really cramped the style of Exxon. That really threw a huge wrench in their works. Because look at their investment in Russia compared to other countries around the world in terms of where they have rights to drill:"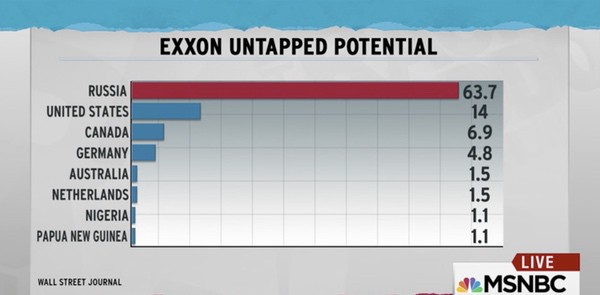 She added:
"This is how they set themselves up under their CEO, Rex Tillerson. Under Rex Tillerson they made a half trillion dollar deal in Russia to drill the arctic. It was going to be a partnership with the Russian state-owned, Kremlin-controlled company Rosneft. Half-trillion dollar deal. That was going to make Exxon, and Russia, and Vladimir Putin specifically, hundreds of millions of dollars. Perhaps hundreds of billions of dollars."
So what can Tillerson do when he's in power?
"Exxon needs the US government to change America's position overall on Russia simply so Exxon can freaking drill over there. So they can recoup their giant investment in that country which outweighs what they are doing anywhere else in the world. They made a huge bet and they're going to lose it unless they get this change from the U.S. government."
She added: "This is trillion dollar math that all depends on the US government getting in line with what Exxon needs to do…And so Exxon is now on the verge of installing its CEO as the head of foreign policy in the United States."
Watch:
Get Towleroad Headlines Daily.
News daily from one of the most trusted, independent, lgbtq owned and operated media outlets. Covering news, entertainment, science, media, art and more for almost 17 years.