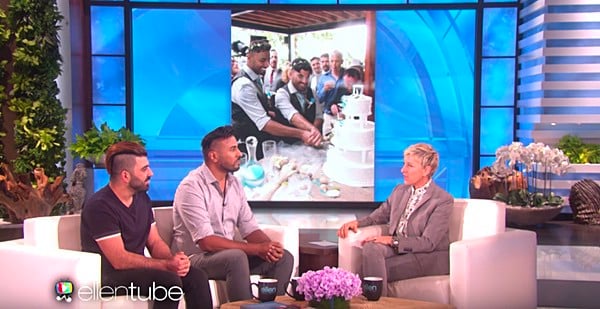 Last June when the documentary Out of Iraq first aired, we reported on Nayyef and Btoo, Iraqi soldiers who fell in love during the Iraq war, were separated for several years, sought asylum in the west, and are now married.
Btoo and Nayyef now live in Seattle, and work with LGBT youth from the middle east who are escaping oppression in their own countries.
Ellen DeGeneres welcomed them to her show.
"What would happen if your families knew you are gay?"
"It's not going to be good," said Nayyef. "I just want to tell them how much I love them. Especially my mom. I love her so much…but my happiness is with him, and I want to spend my whole life with him."
And, of course, Ellen's going to help them get started on that.
Watch:
https://www.youtube.com/watch?v=XoMtQrmnuGw
The pair recently spoke with TIME about how their romance bloomed in the harshest of climates. Nayyef said of the night they first kissed,
"We were on a mission and I'm still not completely sure if he's gay or not, and same thing for him. But I feel he is, just the way I look into his eyes. And that night we sat together and he just told me he loved me and we just started kissing each other. I knew he liked me the way I liked him. In that time everything changed.
Btoo added, "After that first kiss, for two days, I did not eat anything. Believe me, anything. The feeling was amazing. I thought, 'He is my life.'"
After expressing their affection for one another, they still had to be careful of being detected. Nayyef said,
"It wasn't completely happy because we were still hiding. When we would meet on vacation together, we go to a different city where no one recognized us. We'd book the hotel as friends and we'd be there as friends and we could only be ourselves inside this room. The feeling just of being together was so beautiful. At the same time, we know what's going to happen if [others] find out about us or our relationship."
You can read Nayyef and Btoo's interview in full here.