A new documentary tells how two gay Iraqi soldiers met and fell in love during the U.S.-led invasion and occupation of Iraq.
Out of Iraq, which premiered at the L.A. Film Festival earlier this month and debuts on June 13 on Logo, follows Nayyef Hrebid, a translator working for the U.S. military, and Btoo Allami, a former soldier in the Iraqi army.
The pair recently spoke with TIME about how their romance bloomed in the harshest of climates. Hrebid said of the night they first kissed,
"We were on a mission and I'm still not completely sure if he's gay or not, and same thing for him. But I feel he is, just the way I look into his eyes. And that night we sat together and he just told me he loved me and we just started kissing each other. I knew he liked me the way I liked him. In that time everything changed.
Allami added, "After that first kiss, for two days, I did not eat anything. Believe me, anything. The feeling was amazing. I thought, 'He is my life.'"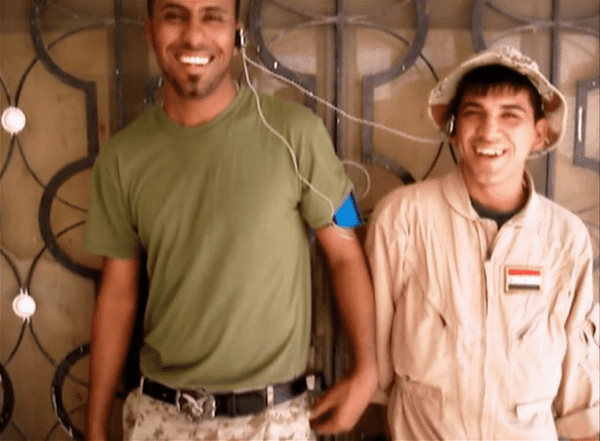 After expressing their affection for one another, they still had to be careful of being detected. Hrebid said,
"It wasn't completely happy because we were still hiding. When we would meet on vacation together, we go to a different city where no one recognized us. We'd book the hotel as friends and we'd be there as friends and we could only be ourselves inside this room. The feeling just of being together was so beautiful. At the same time, we know what's going to happen if [others] find out about us or our relationship."
You can read Hrebid and Allami's interview in full here.
And watch a clip and 2 trailers for Out of Iraq, below.