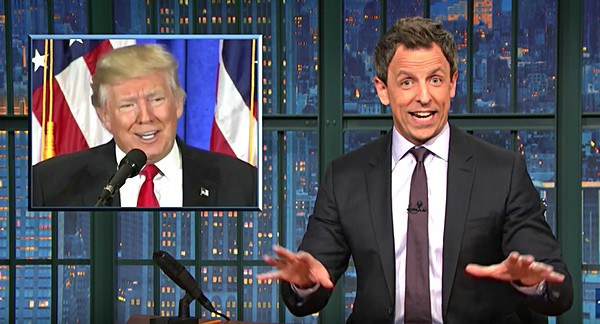 Seth Meyers turned his attention to Trump's insane press conference earlier this week which he rightly notes was "the kind of thing you see in authoritarian regimes."
Meyers noted that the sole point of the press conference, which came with its own Trump cheering section, was to pick a fight with the media.
Meyers was amused by Trump's "fake news" insults, however:
"I do hope 'you are fake news' makes it into lexicon as a sassy comeback.'…You're the worst member of this sororit,y Kaley! Well you, Claire, are fake news!'"
And he was incredulous that Trump actually addressed the golden shower accusations by denying they could have happened because he's a germaphobe:
"That's the President-Elect joking about how he couldn't have been in a room where Russian prostitutes were urinating on each other because he's a germaphobe – just for a 'where we're at' as a nation."
Meyers also pointed out Trump's prop table brought out to try and prove he's going to do away with business conflicts of interest. A prop table filled with blank papers.
Quipped Meyers: "Even if you were doing a middle school play you'd write something on the folders to make it look real!"
Watch: