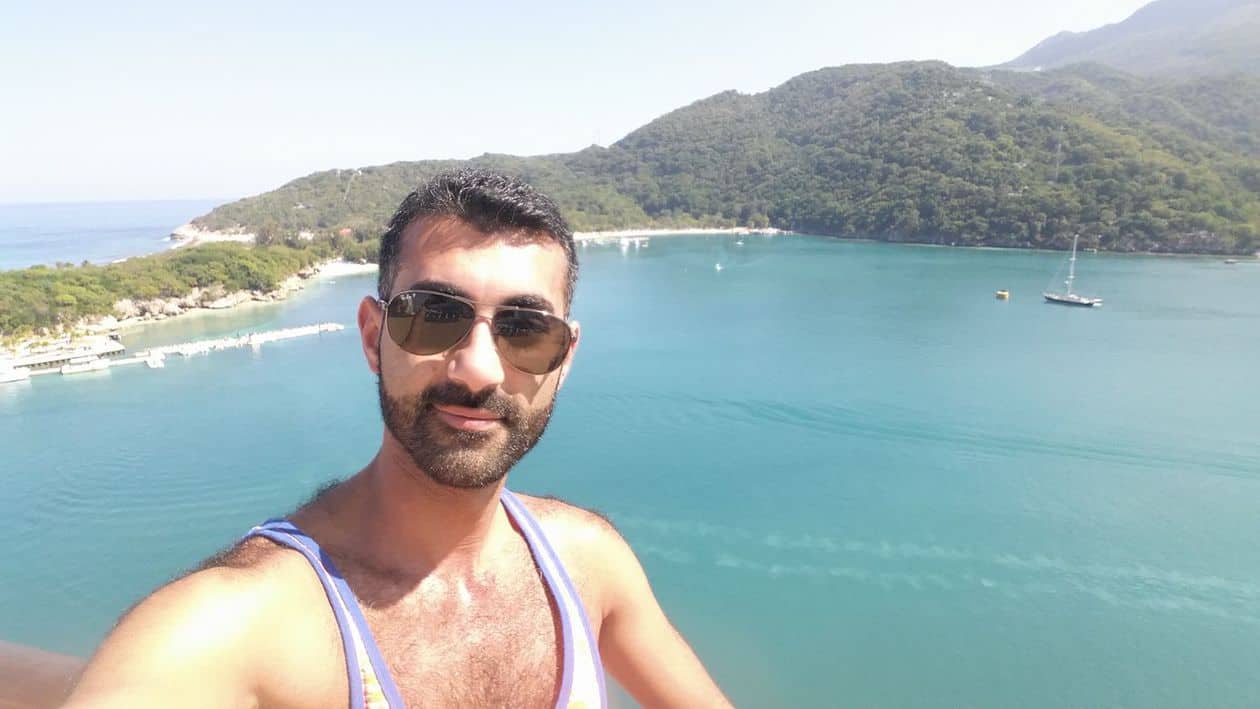 A message from an Iranian on the Atlantis gay cruise Allure of the Seas went viral on social media Saturday night as he expressed fears about returning to port on Saturday.
Wrote Maysam Sodagari on Facebook:
"I left the port with a legal status for a Gay Cruise. Now, I may not be able to enter the US tomorrow. My future is all unclear just by a sudden change in law. If I get detained and sent back to Iran, at least I lived the life to the fullest as a gay man in the US, and I want to thank you all fir being part of this experience."
More than 3,300 people shared the post with hundreds offering messages of support and help to Sodagari.
As Sodagari's call for help went out, protests, including a massive one at JFK Terminal 4, were breaking out across the nation following Donald Trump's executive order barring citizens from 7 countries from entering the United States. The orders resulted in dozens of detentions at airports of nationals from Iran, Iraq, Syria, Yemen, Sudan, Libya and Somalia.
The ACLU, which was alerted to Sodagari's call for help, argued and won a nationwide stay on the order for those in detention at airports and in transit.
Sodagari lives and works in San Francisco, according to his social media accounts, and friends say he has a green card.
Meanwhile, according to The New York Times, White House Chief of Staff Reince Priebus said those from countries in Trump's executive order on immigration who held green cards could return to the United States. But, Priebus also said, border agents had "discretionary authority" to detain and question suspicious travelers from certain countries.
Passengers getting off the cruise from 7 a.m. to 8:15 a.m. Sunday at Port Everglades told the Miami Herald they saw no one detained by U.S. Customs and Border Protection. Mark Anthony of Miami Beach said the process actually moved more swiftly than when he took the same cruise a year ago.
Sodagari, who was chronicling his egress from the ship on Facebook, posted a series of messages to the followers that had buoyed him since Saturday night.
"Just got stopped on the ship exit, as others were allowed to leave", then, "I m being escorted to the cbp."
As followers waited to hear word, Sodagari added, "Maybe this is part of a random check, I am not sure if it is related to my immigration case."
https://www.facebook.com/persian.koala/videos/947177958747542/
Finally, Sodagari said: "I have been asked to go to a room, and wait. He said it may take a while…I feel the support of everyone here, from the officers, sheriff and other passengers. Thank you all. Still waiting in the room"
And then he was free.
Photo: Facebook.