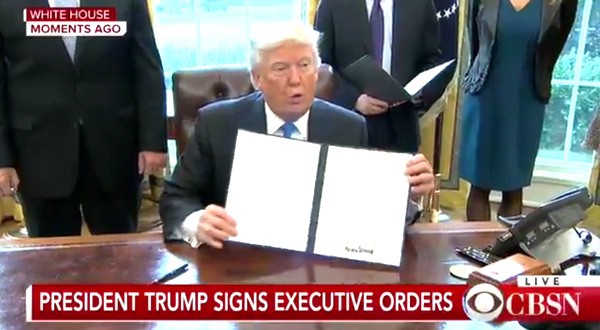 Donald Trump has signed executive orders to resume construction of the Keystone XL and Dakota Access pipelines.
Said Trump: "We want to build the pipe. Gonna put a lot of workers, a lot of skilled workers back to work. We will build our own pipeline. We will build our own pipes…like we used to in the old days."
Watch:
"The regulatory process in this country has become a tangled up mess," Trump says while signing exec. orders to advance Dakota and Keystone pic.twitter.com/lgCfC5O3Fc

— CBS News (@CBSNews) January 24, 2017
The orders will have an immediate impact in North Dakota, where the pipeline company Energy Transfer Partners wants to complete the final 1,100-foot piece of the 1,172-mile pipeline route that runs under Lake Oahe. The pipeline would carry oil from the booming shale oil reserves in North Dakota to refineries and pipeline networks in Illinois.
The Standing Rock Sioux tribe and other Native American groups have been protesting the project, which they say would imperil their water supplies and disturb sacred burial and archaeological sites. The Army Corp of Engineers called a halt to the project in December to consider alternative routes. The sources spoke on the condition of anonymity so they could discuss details that have not been made public.
MoveOn responded to the orders:
"Less than four days into Trump's Presidency, it is clear that the next four years will be about catering to corporate interests and big donors instead of putting American families and communities first.
"Overruling the scientists and experts who have previously warned about the dangers of these pipelines puts big oil profits above all else. This move by the President is dangerous, reckless and heartless.
"When the Army Corps of Engineers rejected a proposal from Energy Transfer Partners to drill under the Missouri River to build the Dakota Access pipeline, they did it because it would trample Tribal Rights, jeopardize critical water systems, and threaten the wellbeing of thousands of people across multiple states. The Keystone XL pipeline is just as problematic; its construction would seize land from local farmers, risk farming in the Great Plains, undermine clean air and safe water, and contribute to catastrophic climate change.
"MoveOn members were proud to stand with the Standing Rock Sioux as well as people across Nebraska who have fought hard to oppose these dangerous and unnecessary pipelines that threatened their land and livelihoods. We are ready to stand with them again and expect the same of Democrats in Washington. This fight is just beginning."