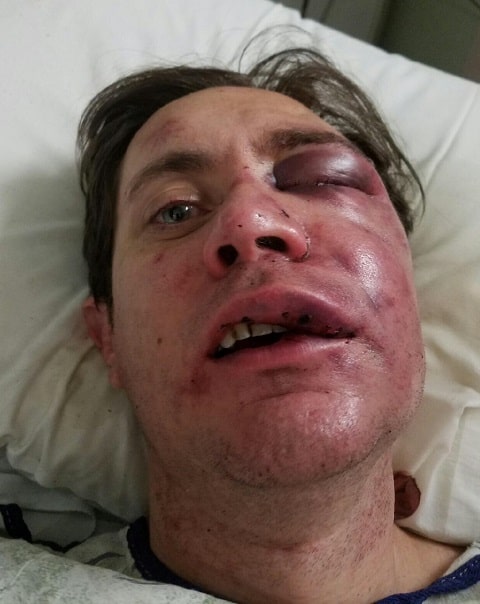 A Fort Collins, Colorado man has been arrested following a brutal attack on a gay man which police are investigating as a hate crime.
Steven Anthony was attacked last Friday by by Vincent Ramirez, an ex-Marine he had considered to be a friend.
I'm supporting this fundraiser because someone from my community is in need: 'Steven Anthony Medical Fund' https://t.co/N4XYmKhfJM

— Edward Rivera (@IamEdwardRivera) January 24, 2017
Anthony told ABC7 that he shared an Uber back to Ramirez's apartment after the two had been out drinking:
"We were talking about this woman and how much he was in love with her and how he needed to back off a little bit," Anthony said. "I said, 'You know Vince, if you do happen to be gay, it's OK, I'm here for you.' We think that's kind of what set him off."
What happened next is still foggy for Anthony.
"I kind of remember sitting at the kitchen table and the last thing, just getting clocked in the back of the head with some kind of an object," Anthony said. "I remember him choking me."
For several minutes, Anthony said Ramirez, choked, stomped and punched him until he was unconscious.  Bleeding and confused, Anthony eventually came to and saw an opportunity to escape.
"I remember hitting the side and laying in that puddle and him saying, 'I'm going to go get my sword,' and just knowing that I wasn't going to get out of there if I didn't get up and I didn't run," Anthony said.
Anthony said he ran out the back door, hid in a window well and called an Uber for help.
The attack left Anthony with a broken nose, broken orbital socket and a sprained abdominal wall.
Ramirez was arrested for second-degree assault and felony menacing.
Yesterday, his bail was set at $7,500. He has since been bonded out and Ft. Collins police confirmed they're investigating the incident as a possible bias crime.
A GoFundMe page has been set up to help pay for Anthony's soaring medical costs. It has so far raised close to $17,000.
Ramirez will be back in court January 31.
Watch a report on the attack below.