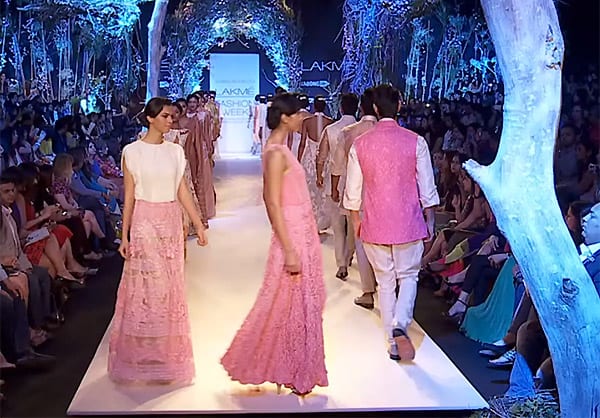 In a first, a transgender model will walk the runway during Mumbai's Lakmé Fashion Week next month. Anjali Lama, 32, is a Nepalese model who had initially tried out for the show last year. This year, she will be included in the lineups for various top designers in shows running from February 1 to 5.
Jointly organized by India's top cosmetics company and IMG Reliance, a chapter of leading global entertainment firm IMG Worldwide, the twice-yearly event is a showcase for the Indian fashion industry, and this move signals broader mainstream inclusion for transgender persons in a region still relatively new to LGBT acceptance.
Nepal's Supreme Court ruled in 2007 in favor of gender identity selection by its citizens, and in 2015 the country began issuing passports that permitted a third gender in line with its new constitution. For its part, India allots transgender identity among its official quotas in hiring and elsewhere, while the country's iconic Bollywood scene has recently highlighted transgender performers.
Lama herself appreciates the contemporary cultural shift towards wider tolerance that have come since the beginning of her journey:
"It wasn't easy for me in the early days when there was so much rejection and discrimination . . . Now I am getting an overwhelming response from the fashion industry after being selected, and other transgender people tell me they are proud of me." . . . Lama joined a modeling academy in Kathmandu, but did not come out to her family. When someone from her village found out Lama was living as a transgender woman and told her family, they cut ties with her and told her that she had let them down. "My mother, to some extent, was more accepting but there really wasn't much awareness then," Lama said. "There is more awareness and acceptance now in Nepal, and that has helped more people like me to come out," she said.
Meanwhile, the fashion head for IMG Reliance, Jaspreet Chandok, cites Lama's inclusion as a development specifically aimed at broader awareness, in order to "take these conversations forward, shining light on some these issues and bringing them to the national consciousness."