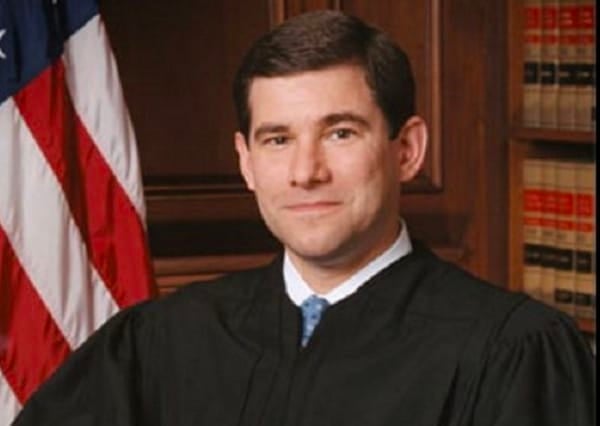 Donald Trump met on Saturday with extreme conservative Judge William Pryor of the 11th U.S. Circuit Court of Appeals. Pryor is on Trump's short list for potential SCOTUS candidates.
Pryor is on record supporting the criminalization of private consensual gay sex and has compared it to "activities like" prostitution, adultery, necrophilia, sex with animals, possession of child pornography, and even incest and pedophilia.
Judge William Pryor, an Alabama-based judge on the 11th U.S. Circuit Court of Appeals, met with Trump in New York on Saturday, said two people familiar with the meeting. They spoke on condition of anonymity because the meeting had not been publicly announced.
Trump said last week that he would select a candidate to fill the seat of the late Justice Antonin Scalia within his first two weeks in office. He has promised to seek someone in the conservative's mold and said he is working from a list of 21 people, mainly conservative state and federal judges in their 50s.
Pryor, identified by Lambda Legal in 2005 as the "most demonstrably anti-gay judicial nominee in recent memory" when he was being considered for federal appeals court, wrote an amicus brief for Lawrence v. Texas in support of Texas sodomy laws.
In short, the States should remain free to protect the moral standards of their communities through legislation that prohibits homosexual sodomy. If legislation of such activity is no longer supported by a majority of the citizens of the States, the legislatures of the States will repeal them, or elected executive officials will cease to enforce them. The recent movement toward decriminalizing homosexual sodomy, even with Bowers v. Hardwick on the books, shows that the legislative system is quite able to respond to popular will without judicial prodding. Impatience with the pace of change, or with the resistance of citizens who do not regard the change as beneficial, does not justify the judicial creation of a new constitutional right.
Writes Snopes: "To support the argument, he discussed several cases in which judges opined that states should have the authority to render gay sex criminal:"
In his Poe v. Ullman dissent, which foreshadowed the recognition of the marital right of privacy in Griswold v. Connecticut, Justice Harlan said that homosexual activity, even when "concealed in the home," was a proper matter of state concern and could be forbidden by the States …
Not only did Justice Harlan find no fundamental right to homosexual activity, he found a fundamental "pattern … deeply pressed into the substance of our social life" against such practice. Later in his dissenting opinion, Justice Harlan repeated his position "that adultery, homosexuality, fornication, and incest … however privately practiced" are subject to state proscription.
People for the American Way adds:
Pre-dating the very similar and much criticized remarks of Rep. Rick Santorum, Pryor's brief equates, for purposes of legal analysis, private consensual sex between same-sex couples — criminalized by the Texas statute — with "activities like prostitution, adultery, necrophilia, bestiality, possession of child pornography, and even incest and pedophilia (if the child should credibly claim to be 'willing')." Pryor's Lawrence Brief, at 25 (emphasis added). This brief prompted even the Tuscaloosa News, which has "cautiously supported Pryor's nomination," not only to call Pryor's opinions "incendiary" and "beyond mainstream," but also to state: "It is a long step from sanctioning, or even tolerating, consensual private activity between two adults to permitting abusive crimes such as pedophilia. The law is perfectly capable of drawing such distinctions in theory and in practice."33 It is most disturbing that Pryor is either unable or unwilling to recognize these distinctions.
Additionally, Pryor's views on abortion:
In a statement in 2005 following Pryor's nomination to the Eleventh Circuit, Sessions hailed Pryor as someone who "personally does not believe in abortion. He does not believe it is right. He believes it is wrong."
Pryor once called the 1973 landmark abortion decision, Roe v. Wade, the "worst abomination in the history of constitutional law."
And to add a curveball to all of this, there have been claims floating around the web for some time that Pryor once posed nude for a gay magazine.
Via blog Legal Schnauzer (work-unfriendly link):
Nude photographs of federal judge Bill Pryor appeared in the 1990s on a gay pornography Web site, a Legal Schnauzer investigation shows.
The photos appeared in 1997 on badpuppy.com, which was in its online infancy, having debuted in mid 1995. Based in Cocoa, Florida, the site has morphed into one of the largest gay porn sites on the Web.
Images obtained by Legal Schnauzer show Pryor posing completely nude, staring into the camera and sporting a noticeable erection. We see no indication that the photos were taken surreptitiously, without Pryor's knowledge. Sources say Pryor was college age when the photos were taken.
Pryor rose to national prominence in Republican circles on the basis of a staunchly conservative record, including consistent opposition to gay rights.
Judge Pryor has repeatedly denied any connection with these pictures. He first told Shuler that the accusations are "totally false," then later stated that the "photos are not of me."
The assertion that the…photograph is a picture of Judge William Pryor is based on three factors: a supposed headshot of the model appears next to the name "Bill Pryor," colleagues of the judge reportedly saw the photograph and exclaimed that it looked like him, and that the model and Pryor both allegedly have "strabismus" (i.e., crossed-eyes):
Mostly full photo here.