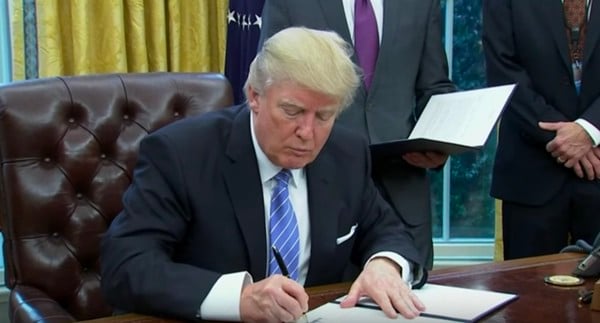 The 9th Circuit Court of Appeals has unanimously upheld the suspension of Donald Trump's Muslim travel ban…
Here's the ruling.
The Justice Department, representing the Trump administration, could now ask the Supreme Court — which often defers to the president on matters of immigration and national security — to intervene. The Supreme Court, though, remains one justice short, and many see it as ideologically split 4-4. A tie would keep in place whatever the appeals court decides.
A Justice Department lawyer, representing the Trump administration, and Washington state's solicitor general, representing the opposition, made their final pitches to the appeals court Tuesday at a contentious hearing. Both sides faced skeptical questioning, and the panel seemed particularly interested in what evidence Trump relied upon in implementing his order, and what limits the Justice Department saw on the president's authority to set immigration policy.
And Trump is very mad, tweeting in all caps:
https://twitter.com/realDonaldTrump/status/829836231802515457
That was court. Ya lost.