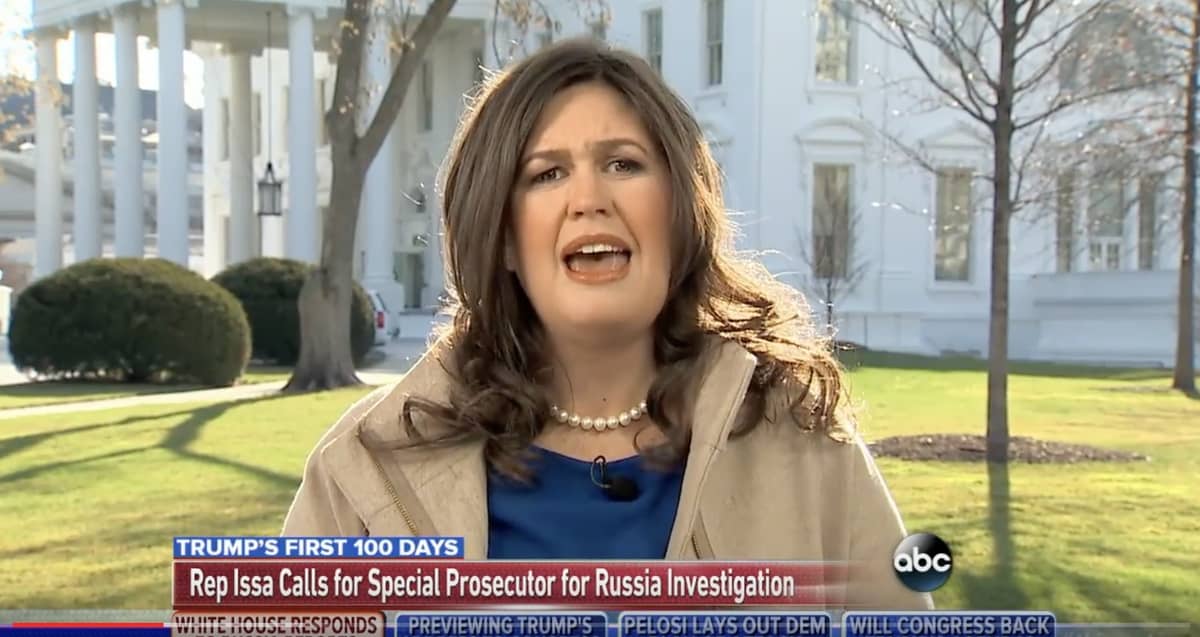 Trump Deputy White House Press Secretary Sarah Huckabee Sanders appeared on This Week with George Stephanopoulos and tried to pretend the Russia-FBI story isn't a big deal, accusing reporters of doing something that Trump does all the time:
"Just because reporters say something over and over and over again doesn't start to make it true."
Huckabee Sanders claimed that the FBI told the Trump administration "the story is B.S." and Stephanopoulos noted that the FBI has officially had no comment.
"First of all, the FBI has made officially no comment. The FBI director, James Comey, has had no comment. You're saying that the FBI told you that it was BS. The FBI hasn't said that at all."
Huckabee Sanders goes on to stonewall Stephanopoulos on a number of inquiries regarding Trump's tax returns, his replacement for Obamacare, and an investigation into the Yemen raid that killed a Navy SEAL.
Additionally, Trump chickened out of going to this year's White House Correspondents Dinner amid his ongoing attacks on media and journalism.
https://twitter.com/realDonaldTrump/status/835608648625836032
Stephanopoulos asked Huckabee Sanders why he's not going.
Said Huckabee Sanders:
George, I think it's safe to say I think we all spend enough time around each other as it is. But, look, this wasn't a president that was elected to spend his time with reporters and celebrities, this is a president who campaigned on speaking directly to Americans, and that's what he's going to spend his time doing.
I think it's — kind of naive of us to think that we can all walk into a room for a couple of hours and pretend that some of that tension isn't there. You know, one of the things we say in the south if a Girl Scout egged your house, would you buy cookies from her? I think that this is a pretty similar scenario. There's no reason for him to go in and sit and pretend like this is going to be just another Saturday night.
Replied Stephanopoulos: "I think a lot would argue the eggs have gone both ways on that. But we're going to have to leave it there today."
Watch:
https://www.youtube.com/watch?v=-gNHkGcZnF4