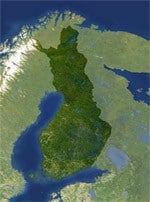 The Finnish parliament Friday voted down a petition that would have blocked a law to permit same-sex marriages, allowing it to come into effect as scheduled on March 1.
While Scandinavian neighbors Sweden and Norway, along with Iceland, had passed same-sex marriage legislation in 2009 and 2010 respectively, Finland took a more complicated path and did likewise only in 2014, with its conservative parties blocking the measure several times previously. A petition allowed the 2014 bill to go forward on a 101-90 vote, with a similar petition in opposition entitled "Genuine Marriage" now falling 120-48.
"That's it! The parliament confirms same-sex marriage to be 100 percent certain from here to eternity. Happy weddings," Green Party leader Ville Niinisto wrote on Twitter after the vote.
The Council of Europe's Human Rights Commissioner Nils Muiznieks lauded the development, noted that 13 European countries had now embraced marriage equality, among 27 which provide for some form of same-sex registration of partnerships. These include Belgium, Denmark, Finland, France, Ireland, Iceland, Luxembourg, the Netherlands, Norway, Portugal, Spain, Sweden, and the United Kingdom