https://www.youtube.com/watch?v=x_jtEChDjls
Anti-gay fast food franchise Chick-fil-A approached Grace Slick because they wanted to use Starship's single "Nothing's Gonna Stop Us Now" in a new commercial.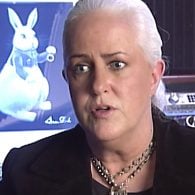 In a new post at Forbes, Slick explains why she said yes:
I firmly believe that men should be able to marry men, and women women. I am passionately against anyone who would try to suppress this basic human right. So my first thought when "Check"-fil-A came to me was, "F**k no!"
But then I decided, "F**k yes."
So that was my voice you heard on the Chick-fil-A commercial during the Grammy Awards telecast. I am donating every dime that I make from that ad to Lambda Legal, the largest national legal organization working to advance the civil rights of LGBTQ people, and everyone living with HIV. Admittedly it's not the millions that WinShape has given to organizations that define marriage as heterosexual. But instead of them replacing my song with someone else's and losing this opportunity to strike back at anti-LGBTQ forces, I decided to spend the cash in direct opposition to "Check"-fil-A's causes – and to make a public example of them, too. We're going to take some of their money, and pay it back.
Slick goes on to say that "we need that artistic integrity today, more than ever" and urges other artists to follow her lead:
I hope more musicians will think about the companies that they let use their songs; we can use our gifts to help stop the forces of bigotry.