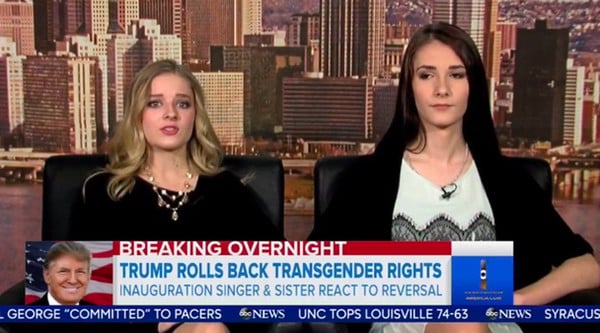 Jackie Evancho, who sang the national anthem at Trump's inauguration appeared on Good Morning America Thursday with her transgender sister Juliet, said she wants to sit down with Trump and "enlighten him" about the discrimination her sister faces.
. @realDonaldTrump u gave me the honor 2 sing at your inauguration. Pls give me & my sis the honor 2 meet with u 2 talk #transgender rghts ❤

— Jackie Evancho (@jackieevancho) February 23, 2017
Last night the Justice Department withdrew Obama-era guidelines instructing schools to allow transgender students to use the bathroom in accordance with their gender identity.
Said Juliet: "Donald Trump needs to know that being in such an unsafe environment won't do any good, not only for the transgender and the LGBT community, but as well everyone as a whole."
Watch: