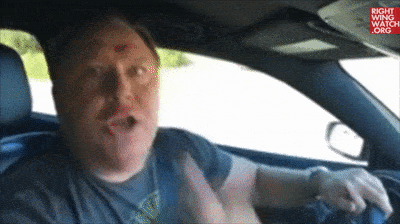 Alt-right conspiracy theorist Alex Jones posted a bizarre rant on Facebook on Tuesday in which he urges Donald Trump to continue the good fight against "globalists" who he says should kill themselves.
Alex Jones is reportedly taking on the role of "occasional information source and validator for the President of the United States" and the pair regularly speak on the phone. Make of that what you will.
https://twitter.com/GlobalistGulag/status/834626054002180096
INn the three-minute clip, a touch on the odd side even by Jones's standards, the InfoWars host apologizes to Trump for missing his calls. He also compares himself to a black person living under Jim Crow because AdRoll, an online advertising platform, blocked ads from running on InfoWars.
As first reported by Media Matters, Jones boasted in his video message that Trump and his sons watch his conspiracy theory show on his InfoWars network "every night," which seems not entirely far-fetched since Trump has relied on Jones for many of his wild and bizarre claims…
…Jones, as usual, reserved his greatest wrath for the "globalists" who he says are determined to destroy humanity: "All across the world, humanity knows you're the enemy. We're going to get you assholes, just know that. It doesn't mean we're perfect but we're not out to screw women and children and hurt people. You understand that, assholes? You hate humanity because you project your own hatred of yourself on us, assholes. You want to kill us, how about you die? Kill your fucking selves you fucking globalists!"
Last year, Jones was one of the alt-right Trump cheerleaders pushing the notion that Marco Rubio is gay.
The evil cabal was unavailable for comment.
Watch Jones's rant below.
(Image labeled for reuse with modification via Google)