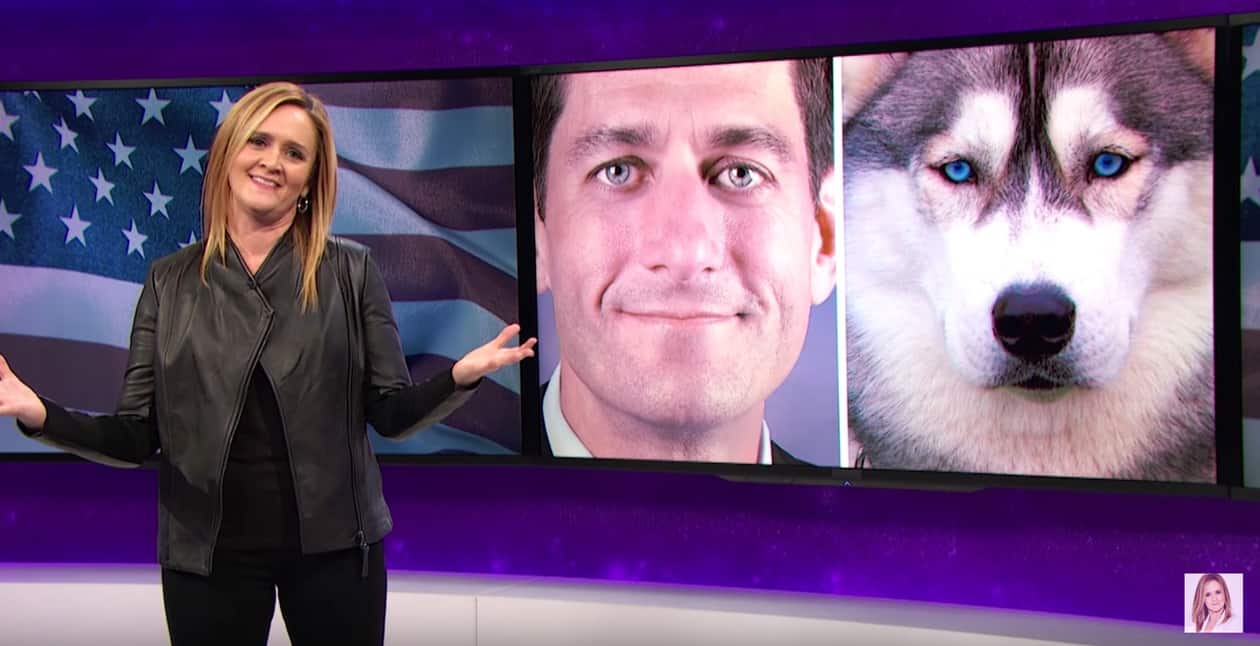 Samantha Bee took apart Donald Trump's evolving relationship with the "Pride of Janesville", Paul Ryan.
"Loyalty is everything to [Trump], and nobody has adapted to that reality better than Speaker of the House and faithful husky Paul Ryan," explained Bee
She then looked at the praise heaped on Ryan by fellow conservatives and news media for being the intellectual force" and the "heart and soul" of the Republican party:
"First of all, in today's Republican party, that's kind of like saying 'Moe is the smart Stooge.'"
So how did someone with such moral courage get in bed with the orange one?
Bee started at the beginning, noting that Ryan was named "Biggest Brown Noser" in high school, but quickly moved on to the 2016 campaign, when Ryan regularly denounced things Trump said.
Remarked Bee:
"Watching Ryan play moral watchdog was like watching Taylor Swift pretend to be surprised at an awards show: bland and fake, but weirdly compelling."
But Ryan changed his tune:
"Remember eight months ago when Ryan condemned the Muslim ban? He doesn't!"
And Ryan is now Trump's faithful husky, a position that should worry all of us. Why?
"Consider, if in theory, a hypothetical president – we'll call him Doug – were to collude with a foreign enemy, engage in self-dealing, defy a co-equal branch of government, share state secrets with the entire early dinner seating of his private club, be clinically conkers or worst of all, lie under oath about an alleged sex act, guess who would be expected to draw up articles of impeachment? Stand out of groping range everyone. It's going to be a long four years."
Watch: