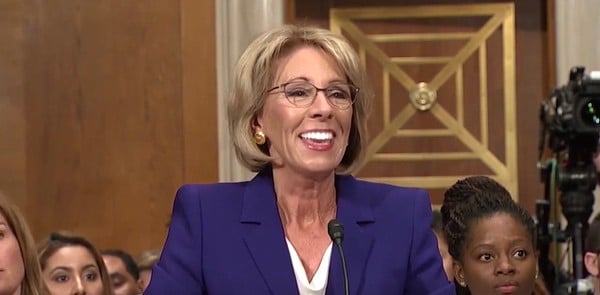 The Justice and Education Departments plan to rescind Obama's directive to public schools that bars discrimination against transgender students and allows them to use bathrooms based on their gender identity, according to a report in the Washington Blade:
Mara Keisling, executive director of the National Center for Transgender Equality, told the Washington Blade on Monday she's heard from "reliable sources" President Trump has green-lighted the plan for the Justice Department and Education Department to send a "Dear Colleague" letter to schools rescinding the guidance.
"This is the first day of the president's second month in office and he is now fully coming after LGBT people," Keisling said. "I'm angry; I'm outraged. This is about kids who just want to go to school who just want to be themselves, and to hear the president a week or two ago talk about how supportive he is of LGBT people, it's just outrageous that he go after trans kids this way."
The move would also position the government in the case coming before the Supreme Court:
A decision to withdraw the guidance could be an initial signal of the Trump administration's position in the case before the U.S. Supreme Court known as Gloucester County Schools v. G.G., which resulted from transgender student Gavin Grimm suing his high school to use the restroom consistent with his gender identity. The questions before the court are to evaluate the guidance and whether the prohibition of sex discrimination under Title IX applies to transgender students seeking to use the restroom in school consistent with their gender identity.
The Trump administration would be rescinding the guidance weeks after the White House issued a statement declaring Trump is "respectful and supportive of LGBTQ rights" and would preserve a separate order from President Obama barring anti-LGBT workplace discrimination among federal contractors.