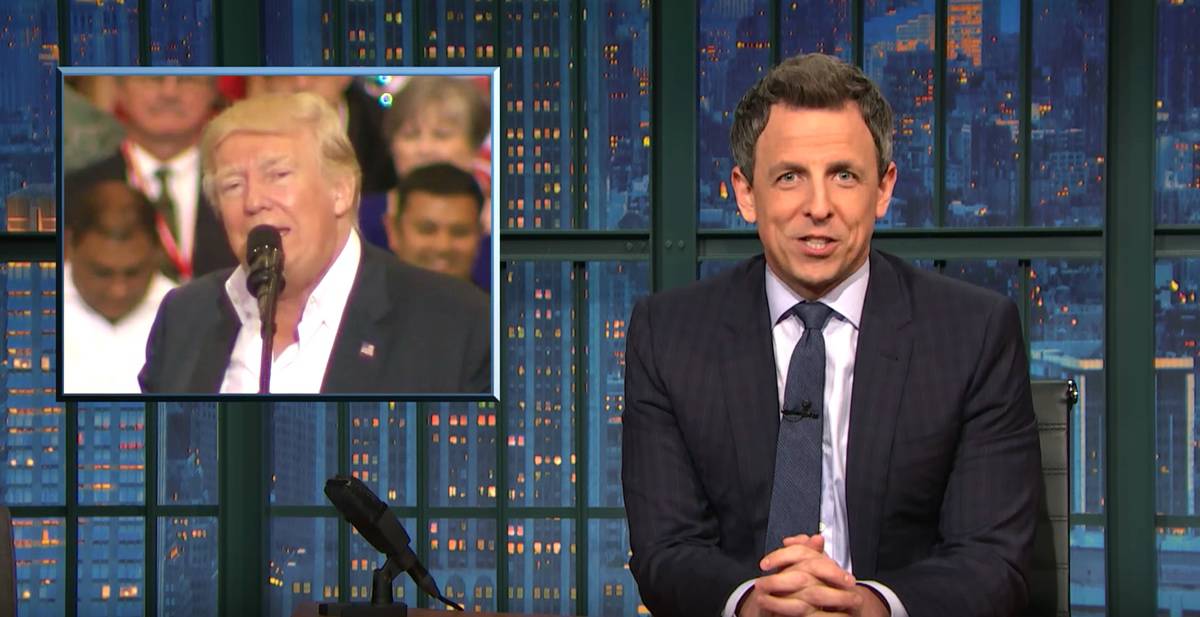 "On the one hand, you've got the genuinely ominous things he's done, from declaring the free press an 'enemy of the American people' to preemptively blaming a judge for future terror attacks," said Seth Meyers in his latest "Closer Look" segment, and then you have "the everyday weirdness of life in the Trump era."
Such as forcing Chris Christie to order the meatloaf at their White House meeting.
Quipped Meyers: "Of course, the meatloaf was actually a second course for Christie after Trump made him swallow his pride. Also, that whole conversation sounded like mafia slang."
And the White House's other sad stumbles, like keeping Secretary of State Rex Tillerson out of the loop while deciding that he was going to reject a two state solution for Israel, publishing a photo of his all-white White House ("What has 26 thumbs and no black friends?), the constant chaos disrupting the GOP agenda, and Trump's inability to find people who want to work as National Security Advisor.
Meyers also looked at Trump's attacks on the news media, continued at his reelection rally in Florida.
"And yet, as he does so often, Trump transitioned seamlessly from claiming that the media makes up fake stories to making up his own fake stories."
Like the terrorist attack in Sweden. "Sweden!", said Trump. "Who would believe this? Sweden?"
Said Meyers: "Who would believe this? The answer is no one, because, as fact checkers pointed out, no incident occurred in Sweden on Friday night."
Watch:
https://www.youtube.com/watch?v=a5iBZ-8wkdQ