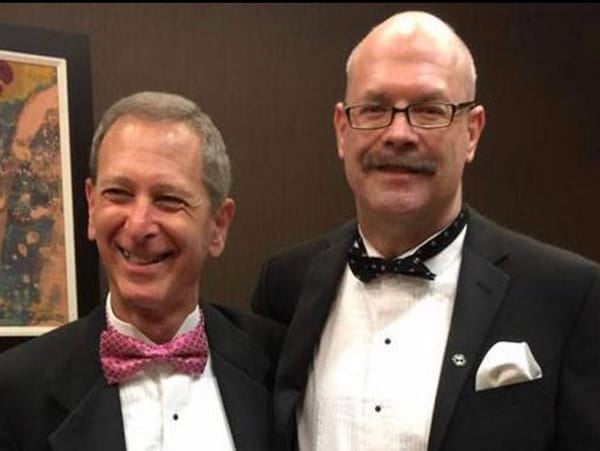 David Taffet, a reporter at the Dallas Voice, lost his husband Brian Cross on March 6.
My husband, Brian Cross, was acting disoriented and was laying down. He was snoring, but that suddenly stopped. At 9 p.m. I called 911. After a few minutes, I was disconnected. When someone calls 911 and is disconnected, 911 operators are supposed to call back. They didn't.
I called 911 again immediately. The entire time I was trying to do CPR. Finally a 911 operator answered at 9:20. By that time, no matter how much I breathed into his mouth and pounded his chest, Brian wasn't breathing.
Once I got through to 911, the response time was fantastic. Dallas Fire and Rescue was in our house within three minutes.
But had they been there at 9:05 rather than 9:25, Brian might have been resuscitated.
The Dallas Morning News said it is the second recent 911-related death:
The death is the second to be seemingly tied to what has been dubbed a "ghost call" issue in which T-Mobile customers' phones flood the city's 911 call center with phony emergency calls, forcing legitimate emergency callers to wait in line.
It's unclear whether a quicker response would've made any difference for Cross, and Taffet isn't yet sure what caused his husband's death on March 6. But on Wednesday, Taffet showed up to Dallas City Hall and demanded answers, both as a grieving widower and as a reporter for the Dallas Voice. 
"I don't want to start hearing about more people dying as a result of people waiting to get through for help," Taffet said.
But Taffet and Dallas residents were mostly left in the dark Wednesday. T-Mobile executives and city leaders said they still don't know what the problem was, other than that the trouble is unique to Dallas. But they all pledged to get to the bottom of the issue that threatens the most basic public safety tenet: a prompt response to an emergency.
The city of Dallas and T-Mobile are blaming each other, Taffet adds:
T-Mobile said Dallas staffing is not up to par. Again, it's possible that is part of the problem. Dallas has been growing at an incredibly fast rate and there's higher call volume on the 911 system.
T-Mobile identified one problem it's having on its system. When a caller using T-Mobile doesn't get through on its 4G network, the system automatically puts the call through again on its 3G network to increase the chance of connecting with emergency services. T-Mobile has suspended that. But again, why only in Dallas?
Mayor Mike Rawlings' office is frustrated as hell trying to get answers and get the 911 system fixed. T-Mobile said they'll remain on site until the mess is fixed.
Watch the Mayor Mike Rawlings talk about the issues:
Rawlings issued a statement:
It is outrageous that T-Mobile still has not resolved the ghost call issue that is putting Dallasites in danger by clogging our 911 system. I'm in full agreement with our city manager that our citizens deserve better. This issue not only puts paying T-Mobile customers at risk, but it jeopardizes the safety of people throughout our city. It's encouraging that T-Mobile will finally be sending top engineers to Dallas tomorrow morning. I can only assume that they will work around the clock until they figure out how to fix this issue.
Photo: Facebook.