Empire actor Jussie Smollett debuted "F.U.W." (short for "f**ked up world), a new track accompanied by a searing anti-Trump video (directed by Smollett) that captures how many are feeling under this new regime.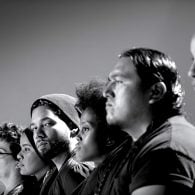 Billboard reports:
The black-and-white video features men and woman of various ethnicities and highlights injustices, from human and LGBT rights to religious and racial prejudices. A woman wears a hijab in one scene, a boy wears a hoodie in another and four women put their fists up as they stand in front of the words, "My body, my rights."
"This song is for the oppressed. That's why I feel like people will connect with it because it is very broad, because oppression is so broad," he said in an interview Tuesday with The Associated Press.
In another scene, a man in a wheelchair runs over a Donald Trump mask.
"That mask is a representation of this false idea of patriotism. And that mask is a representation of this idea of white male privilege," 34-year-old Smollett said. "It's so much bigger than him. It's what he represents, and it's because of that representation, that's why he's the president of the United States currently."
"It's our opportunity to take those masks off and shatter them, so that's what I did," he added.
Watch: