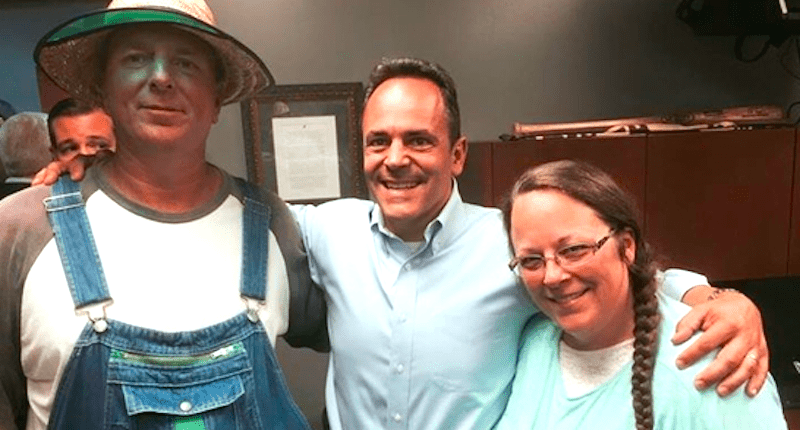 Governor Matt Bevin has signed into law a Kentucky 'religious freedom' bill which legalizes discrimination against LGBT students.
The AP reports:
The bill, designed to protect religious expression in public schools, is known as the "Charlie Brown law," after a Kentucky school cut a bible verse from their production of "A Charlie Brown Christmas."
The bill prevents school officials from regulating student organizations, including the selection of members and "doctrines and principles."
LGBT advocates say the bill could give student groups a license to discriminate.
The Human Rights Campaign released a statement:
"Governor Bevin's shameful decision to sign this discriminatory bill into law jeopardizes non-discrimination policies at public high schools, colleges, and universities," said HRC Legal Director Sarah Warbelow. "No student should fear being excluded from a school club or participating in a school activity because they are LGBTQ. While of course private groups should have the freedom to express religious viewpoints, they should not be able to unfairly discriminate with taxpayer funds."
SB 17 undermines inclusive "all comers" policies at public colleges, universities, and now high schools, by allowing student organizations to discriminate against students under the guise of religion. Many public colleges and universities have long had "all-comers" policies that require student organizations receiving financial and other support from the institution not to discriminate against students based on race, sex, religion, sexual orientation or gender identity. These policies are important because they allow all members of the student body to participate in students groups and prevent such groups from discriminating against students with state funding. The Supreme Court upheld these all-comers policies as constitutional in the Christian Legal Society v. Martinez decision in 2010.
The attack on fairness and equality in Kentucky is part of an onslaught of bills being pushed in 2017 by anti-equality activists around the country. HRC is currently tracking more than 100 anti-LGBTQ legislative proposals in 30 states.
The Kentucky Equality Federation says it plans to sue over the law:
Governor Bevin signing Senate Bill 17 into law is hardly shocking and is nothing new. Discrimination under the guise of religion is also nothing new. Senate Bill 17 jeopardizes non-discrimination policies at high schools, colleges, and universities.  Though the struggle for LGBTI equality continues to this day, the right wing has been pushing religious freedom to discriminate against lesbian, gay, bisexual, transgender, and intersex people in addition to pregnant and unmarried women under the inhumane calling of religious freedom…
…Discrimination and hate sanctioned by the state, be it one of the several states or the federal state will not be tolerated. As the unifying figure for all member organizations, I have warned and advised the managing directors, regional directors, and other management of member organizations and our legal department of the Federation and the United Kentucky Alliance to sue the Commonwealth posthaste. Both case law and the Kentucky Constitution are on our side. First, however, we will likely need a victim who has been discriminated against.