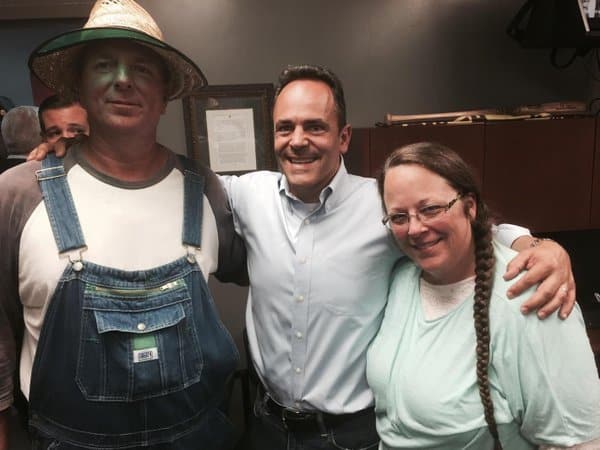 Matt Bevin defeated Democrat Jack Conway to become Governor of Kentucky, the first Republican elected to that office in 44 years. He will replace Governor Steve Beshear.
"With 93 percent of the vote counted, Bevin led Conway 53 percent of the vote to 44 percent – a near landslide," the Courier Journal reports.
Bevin won in part by rallying Evangelical Christians, and used the Kim Davis saga to successful effect, visiting the Rowan County Clerk and speaking at the rally supporting Davis the day she was freed from jail. Bevin called on Beshear to issue an executive order accommodating Davis' desire to deny marriage licenses to gay couples.
Kim Davis's attorneys at the Liberty Counsel sent out a press release congratulating Bevin which included a statement from Davis herself:
"I congratulate Matt Bevin on his win. I am ecstatic. He is such a genuine and caring person. I will be forever thankful that he came to visit me while I was in jail. At a clerks' meeting he hugged me and said he was praying for me. I am looking forward to his leadership as our new Governor."
Liberty Counsel attorney Mat Staver clucked as well:
"The election was not even close. The lopsided victory for Matt Bevin stunned most political pundits. There is no question that the issue of religious freedom and same-sex marriage played a role in the results. The people favor traditional values and marriage, and they are tired of the political elites represented by Governor Beshear who are out of touch with ordinary, God-loving citizens. We look forward to working with Governor Elect Matt Bevin to accommodate the religious convictions of Kim Davis and other Kentucky clerks. Finally, we will have common sense and the Constitution prevail in Kentucky."
Watch Bevin speak at the rally for Davis:
https://www.youtube.com/watch?v=qhtfNfi_ebE