Judge Neil Gorsuch says he's an "originalist" when it comes to interpreting the Constitution. Terms like "originalist" or "constitutionalist" or "strict constructionist" or "textualist" are titles conservative lawyers and judges adopt partly for PR purposes, partly to create a legal identity, and partly to appeal to a political movement on the right.
These words aren't that old, but the concepts they summarize have long, dark histories. They also make very little sense. When Judge Gorsuch tells us he's an "originalist", he's really doing two things: telling us that he thinks his role as a judge is to get out of the way and, when he does get involved, he's going to privilege the social structure in place in 1789.
Now I'm going to tell you why that's utter malarkey.
Originalism, or the idea that judges should interpret the Constitution as the Framers understood it when they wrote it, is not really possible. The meanings of words can change over time, and we don't have specific records that define every important term in the Constitution as it was used in 1789.
Even though we have dictionaries from that time, dictionaries do not describe common meanings, connotations, interpretations, and regional understandings. Nor do they tell us what the particular men who drafted the document and amendments really meant. Plus, the final language was the result of bargaining, heated debate, and, if you per the musical, 1789, a lot of singing and dancing.
And the Bill of Rights, the first ten amendments to the Constitution that North Carolina demanded lest it vote against ratification, were written separately and subjected to their own debates and compromises. This confusing landscape raises the question: Who's original meaning are we even talking about?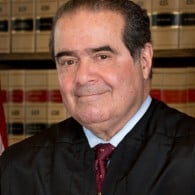 Even originalists aren't always originalists. The late Justice Scalia, whose seat Merrick Garland should have taken, was only an originalist when it suited him. Consider his decision in a gun control case, District of Columbia v. Heller. A so-called "originalist" interpretation of the Second Amendment would have at least acknowledged that, as written, the clause, "the right of the people to keep and bear arms" is, cabined or constrained by the preceding phrases, "A well regulated Militia, being necessary to the security of a free State."
An originalist would have also taken note of the fact that during the drafting of the Constitution, representatives from several states proposed a clear individual right to bear arms, a proposal that was rejected. But, for Scalia, would hated gun safety legislation, these were inconveniences to be discarded. He read into the Second Amendment a new interpretation that gave every person the right to own a gun.
Originalism makes little sense in a world where societies–and technologies–change. When the Framers drafted the Fourth Amendment, they had no idea that a satellite could track you wherever you go, or that a GPS beacon could be placed on your car so police could follow you on public and nonpublic streets, or that internet content providers could determine everything from our credit card numbers to where we hover our cursors, what things we like to buy, and what terms we tend to search.
And the Framers knew this, of course, which is another reason why originalism doesn't make sense: the Framers weren't originalists, anyway. As such, they crafted a document that could evolve and adapt to new contexts, as Justices Holmes, Brandeis, Harlan, Brennan, and so many others knew well.
Therefore, what's left of "originalism"? Many scholars and commentators argue that originalism is a convenient way for conservative jurists to both permit discrimination and absolve themselves of responsibility for it.
In other words, it gives intellectual rationalization to darker policy preferences. Crafted at a time when conservatives railed against a federal judiciary actively making the legal system more equal and accessible, terms like "originalism" and "strict construction" were ex ante rationalizations for letting states discriminate against their (non-white, non-heterosexual, non-male, non-cisgender) citizens.
The job of the judge, originalists say is to faithfully interpret the Constitution the way the Framers would have wanted. But the only time the Framers dealt with equality, they failed (see the Three Fifths Clause). A society governed by originalism is a society where white, majority privilege is not just the norm, but the rule of law. And I, for one, do not want to live there.