Rachel Maddow is slowly putting together all of the pieces of the Trump campaign's involvement with Russia, and the latest is a doozy.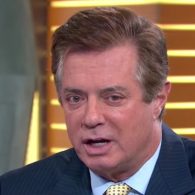 Last night's on-fire A-block segment concerned former campaign chairman Paul Manafort's involvement with a Kiev-based Russia national, Konstantin Kilimnik. Kilimnik had suspected ties to Russian intelligence and has been under the scrutiny of the FBI and State Department for two trips he made to the U.S. during the presidential campaign.
Kilimnik, a joint Russian-Ukrainian citizen who trained in the Russian army as a linguist, told operatives in Kiev and Washington that he met with Manafort during an April trip to the United States. And, after a late summer trip to the U.S., Kilimnik suggested that he had played a role in gutting a proposed amendment to the Republican Party platform that would have staked out a more adversarial stance towards Russia, according to a Kiev operative.
The Trump campaign had complete disinterest in the Republican platform as it was being created, Maddow noted, except for the plank about Russia and Ukraine.
"What was riveting and bizarre to watch at the time and we couldn't make heads or tails of at the time was the Trump campaign's one exception on the party platform…They did decide to get up on their hind legs and fight and intercede aggressively for one thing in the platform…and that was, a thing about Russia. There was a proposed plank…that said Ukraine should get help from the United States up to and including lethal weaponry so that Ukraine could fight off Russian incursions….They jumped right up on that and they insisted that that plank only, that one had to be taken out – that language could not stand."
Trump insisted, "I am not involved," when questioned by George Stephanopoulos on the issue.
Manafort denied involvement as well and denied that nobody from the Trump campaign had anything to do with it.
Now, a former Trump campaign official has confessed that he did it, taking orders directly from Donald Trump.
Maddow noted that one of the basic allegations in the unverified Russian dossier was a quid pro quo deal between Russia and the Trump campaign over the Ukraine plank in the GOP platform.
A source in the dossier said that "the Russian regime had been behind the recent leak of embarrassing e-mail messages, emanating from the Democratic National Committee (DNC), to the WikiLeaks platform. The reason for using WikiLeaks was "plausible deniability" and the operation had been conducted with the full knowledge and support of Trump and senior members of his campaign team. In return the Trump team had agreed to sideline Russian intervention in Ukraine as a campaign issue."
"More pieces of [the Russian dossier] are falling into place" every day, said Maddow.
Watch: