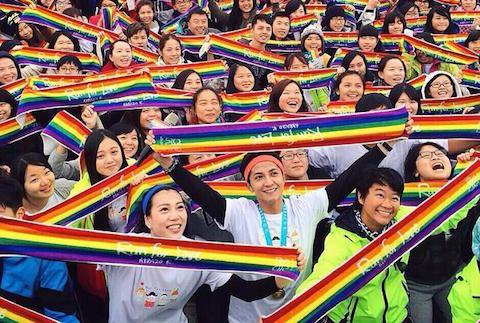 Taiwan may be the first place in Asia to have marriage equality should the Constitutional Court rule in favor of marriage equality in a case they are hearing today.
A panel of 14 grand justices will hear a debate over a disputed law that critics say is unconstitutional because it prevents unions between gay couples.
Campaigners for change gathered with rainbow flags outside the court in Taipei, which was heavily guarded on Friday morning.
Two petitions for an interpretation of Taiwan's Civil Code have been brought by veteran gay rights activist Chi Chia-wei and the Taipei city government, which has been receiving a growing number of requests to register gay marriages.
Lawyers for Chi, legal experts and government officials will take part in the court debate, with a ruling expected within two months.
"The constitutional court's decision is legally binding," said Hsieh Kuo-lien, a law professor at the National University of Kaohsiung.
A panel of 14 justices are hearing arguments and will debate whether a line in Taiwan's civil code, which states that marriage is between a man and a woman, is unconstitutional…
…It's the first time the judiciary is opening the Constitutional Court on the issue. If the judges rule that Taiwan's current ban is unconstitutional, then parliament will be forced to amend the laws to offer gay couples protection.
Lawmakers, while initially supportive, have become less enthusiastic about passing such bills after vocal opposition by mainly religious groups and parents.
If the judges rule in favour of it, they will in essence be doing the dirty work for lawmakers, who can then tell their voters they have no choice but to amend the laws.
We'll know by the end of the May. Keep following Towleroad for details…