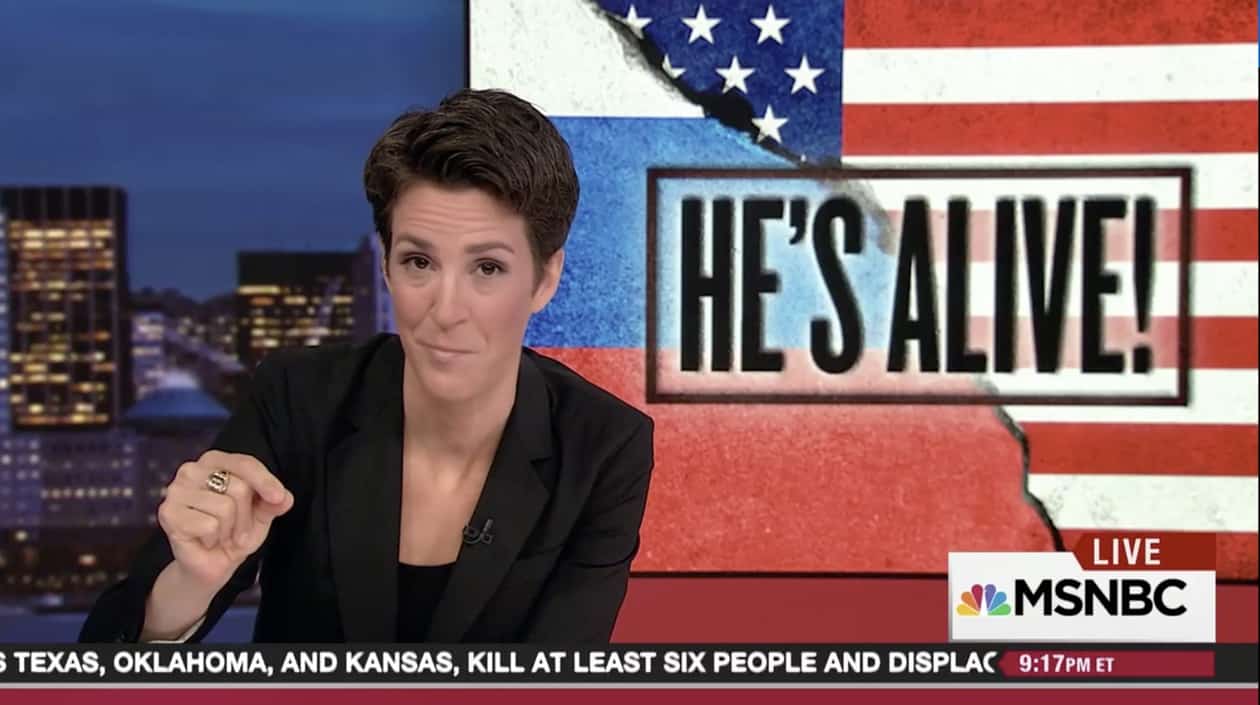 Forget all the distractions. "Get back to the main point here," said Rachel Maddow in her Tuesday night A-block story, which focused on the reemergence of M16 spy Christopher Steele, the author of the Russian dossier on Trump, the facts of which continue to bear out under further scrutiny.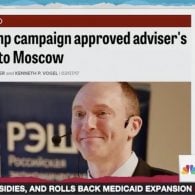 First Maddow took a look at the timeline of Trump campaign officials in the fall of 2016, as more details emerge that yes, more and more Trump officials including Jeff Sessions, Carter Page, Michael Flynn, J.D. Gordon, Paul Manafort, Roger Stone and Michael Cohen all met with Russian officials during the time of the attacks on the U.S. election.
Said Maddow:
"Forget all of the salacious personal stuff. Forget all the stuff that made the White House so mad when this was published. The bottom line of this dossier, the bottom line allegation, the point of it is that the Trump campaign didn't just benefit from Russia interfering in our presidential campaign. The point of this is that they colluded, they helped, they were in on it. The money quote from this dossier is, 'The operation had been conducted with the full knowledge of Trump and senior members of his campaign team.' That's basically what this whole dossier alleges – that the Trump folks were in on it.  There were multiple people close to Trump, involved in the Trump campaign, who were in contact with the Russian government about the Russian government's attacks on Hillary Clinton, while those attacks were happening, while Russia was waging these attacks. Overall, yes, we still have to describe this as a sheaf of uncorroborated allegations, but little pieces supporting that bottom line thesis really do keep falling in line."
She added:
"Get back to the main point here. Get back to the big point here. Get back to the challenging the fate of the republic stuff here. The main allegation here, the thing everybody is most worried about, which is the bottom line allegation of this unproven dossier…is that Russia didn't just attack our election. They did so with the knowledge of and support of the Trump campaign. That the Trump folks were in on it. That they knew what Russia was doing while they were doing it, and they continued meeting with Russians, in knowledge of that activity, during the time of the attack."
Watch:
Maddow later spoke to Rep. Adam Schiff about the House Intel Committee's first hearings on the matter:
https://www.youtube.com/watch?v=QLF-n-UMi9Q
Get Towleroad Headlines Daily.
News daily from one of the most trusted, independent, lgbtq owned and operated media outlets. Covering news, entertainment, science, media, art and more for almost 17 years.